A molecularly imprinted photoelectrochemical sensor based on the use of Bi2S3 for sensitive determination of dioctyl phthalate
Abstract
A molecularly imprinted polymer photoelectrochemical (MIP-PEC) sensor based on bismuth sulfide (Bi2S3) is described for the determination of the plasticizer dioctyl phthalate (DOP). Bi2S3 was used as the photoelectrical converter of the sensor, and visible light was utilized as the excitation source. The molecular imprinting film was prepared through the electropolymerization of monomers in the presence of DOP. Under optimal experimental conditions, the photoelectrochemical response was linearly proportional to the logarithm of the DOP concentration in the 0.5–70 pM DOP concentration range, and the detection limit was 0.1 pM. The method is highly stable and reproducible. It was applied to the determination of DOP in spiked water samples.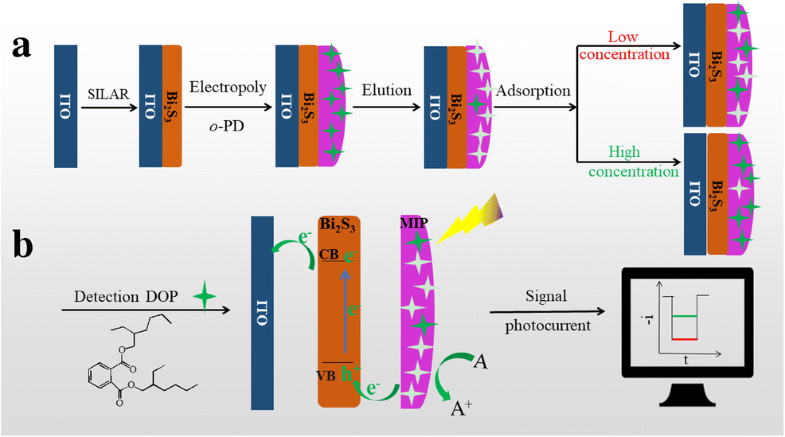 Keywords
Photoelectrochemical sensor 
Molecular imprinted 
Dioctyl phthalate 
Bismuth sulfide 
Nanoparticle 
Current-time method 
Notes
Acknowledgements
The authors gratefully acknowledge the financial support from the National Natural Science Foundation of China (Project No. 21765006), the Natural Science Foundation of Guangxi Province of China (Project No. 2015GXNSFFA139005, 2018GXNSFAA138145), and Guangxi Colleges and Universities Key Laboratory of Food Safety and Detection.
Compliance with ethical standards
Conflict of interest
There are no conflicts to declare.
Copyright information
© Springer-Verlag GmbH Austria, part of Springer Nature 2019