Assay of 1-hydroxypyrene via aggregation-induced quenching of the fluorescence of protamine-modified gold nanoclusters and 9-hydroxyphenanthrene-based sensitization
Abstract
This work describes a method for the determination of 1-hydroxypyrene (OH-Py) via aggregation-induced quenching of the emission of protamine-coated gold nanoclusters using 9-hydroxyphenanthrene (OH-Phe) as a sensitizer to boost the emission efficiency of nanoprobe. Under optimum conditions, the drop in fluorescence intensity at excitation/emission wavelengths of 300/596 nm is proportional to the concentrations of OH-Py in the range from 1.0 to 65 nM. The relative standard deviations are 4.2, 2.4 and 1.9% (for n = 11) at concentration levels of 8.0, 32 and 48 nM of OH-Py, respectively. The detection limit is 0.3 nM which is much lower than that of some previously reported methods. The recoveries from urine samples spiked with OH-Py ranged between 94.4 and 98.8%.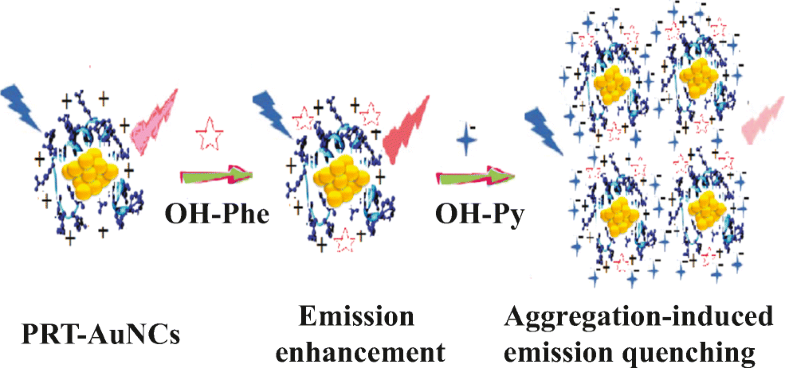 Keywords
Nanoprobe 
Photoluminescence quenching 
High quantum efficiency 
Electrostatic interactions 
Hydrogen bonding 
Hydrophobic interaction 
Resonance energy transfer 
Human urine samples 
Notes
Acknowledgments
The authors gratefully acknowledge the support of the National Natural Science Foundation of China (No. 21177052, 11405081), the Science and Technology Program of Hunan Province in China (2010SK3039), the Key R&D Program of Hunan Province (2018SK2029), the Fund of Hengyang Key Laboratory (No. 2018KJ110), and Research Study and Innovation Experiment Program for University Students (No.477).
Compliance with ethical standards
The studies were approved by the Ethical Commission of the University of South China and were performed in accordance with ethical standards.
Conflict of interest
The author(s) declare that they have no competing interests.
Copyright information
© Springer-Verlag GmbH Austria, part of Springer Nature 2019