Dual-probe (colorimetric and fluorometric) detection of ferritin using antibody-modified gold@carbon dot nanoconjugates
Abstract
A dual-mode assay is described for immunological determination of the anemia biomarker ferritin. It is based on the use of a gold@carbon dot (Au@CD) nanoconjugate as a colorimetric and fluorescent probe. Au@CD is hydrophilic, easily surface modified and stable in aqueous solution. The Au@CD have a red color with blue-green fluorescence and were modified with antibody against ferritin. This allows bi-modal detection of ferritin. Assays can be performed in phosphate buffer and were also analyzed in (Bovine Serum Albumin) BSA and (Fetal Bovine Serum) FBS. Detection is based on antigen-antibody interaction underlying the classical sandwich model. Response to ferritin can be detected by spectrophotometry (at 570 nm) or fluorescence (at excitation/emission maxima of 354/454 nm). Under optimal conditions, the assay has a linear response in the 1 to 120 ngmL−1 ferritin concentration range and detection limits of 20 ng (colorimetrically) and 64 ng (fluorometrically).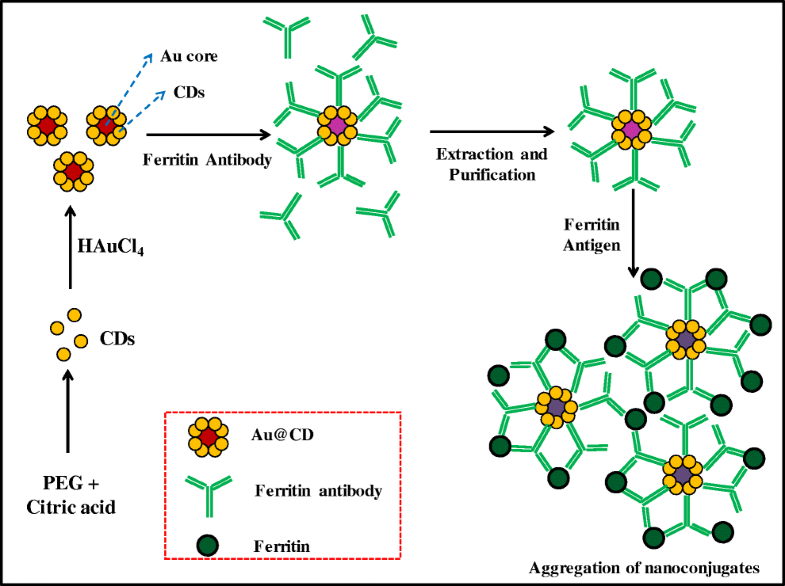 Keywords
Bi-modal detection 
Antigen-antibody 
Immunoassay 
Anemia 
Nanoprobe 
Diagnostic sensor 
Binding efficiency 
Dynamic light scattering 
Aggregation 
Quenching 
Notes
Acknowledgments
EP is thankful to DST-SERB for National Postdoctoral Fellowship under the grant number PDF/2017/000024. The authors thank the Advanced Instrument Research Facility of the University for Analytical Characterization.
Compliance with ethical standards
Conflict of interest
The author(s) declare that they have no competing interests.
Copyright information
© Springer-Verlag GmbH Austria, part of Springer Nature 2019