Amperometric immunoassay for the carcinoembryonic antigen by using a peroxidase mimic consisting of palladium nanospheres functionalized with glutathione-capped gold nanoparticles on graphene oxide
Abstract
A composite nanoenzyme was used in a sandwich-type electrochemical immunoassay for the carcinoembryonic antigen (CEA). Hierarchically porous palladium nanospheres (Pd NPs) were functionalized with glutathione-capped gold nanoparticles (G-Au NPs) and then loaded onto graphene oxide (GO) to obtain a peroxidase mimicking nanoenzyme of type GO-supported G-Au/Pd. The composite can catalyze the oxidation of the substrate tetramethylbenzidine (TMB) by H2O2 to give blue-colored oxidized TMB within only 20 s. This strong peroxidase activity, good conductivity and high specific surface area of the material make it a useful label for secondary antibodies (Ab2) for the detection of CEA. The cotton-like electrodeposited gold nanoparticles with good electrical conductivity were used to immobilize primary antibody (Ab1). The amperometric immunoassay has a detection range that extends from 10 fg·mL−1 to 100 ng·mL−1 at a working potential of −0.4 V with addition of 5 mmol·L−1 H2O2 as electrochemically active substrate, and the detection limit is as low as 3.2 fg·mL−1 (S/N = 3).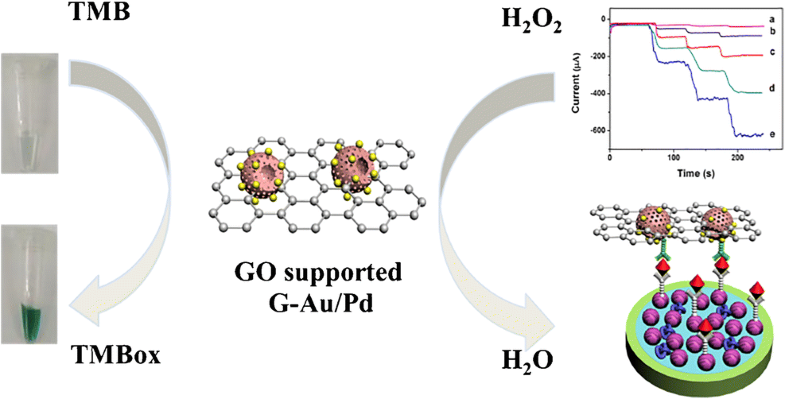 Keywords
Nanoenzymes 
Sandwich-type electrochemical immunosensor 
GO supported G-Au/Pd 
CEA 
Signal amplification 
Notes
Acknowledgements
We greatly appreciate the support of the National Natural Science Foundation of China (21405095; 21575079; 21671121) and the Shandong Provincial Natural Science Foundation (ZR2018MB008, ZR2018MB012).
Compliance with ethical standards
All experiments were performed in compliance with relevant laws or guidelines of Shandong University of Technology and approved by the ethics committee at Shandong University of Technology, China. Moreover, informed consent was obtained from human participants of this study.
Conflict of interest
The author(s) declare that they have no competing interests.
Copyright information
© Springer-Verlag GmbH Austria, part of Springer Nature 2019