A multichannel system integrating molecularly imprinted conductive polymers for ultrasensitive voltammetric determination of four steroid hormones in urine
Abstract
This work reports on a modularized electrochemical method for the determination of the hormones cortisol, progesterone, testosterone and 17β-estradiol in urine. These hormones were employed as templates when generating molecular imprints from aniline and metanilic acid by electropolymerization on the surface of screen-printed electrodes. The electrically conductive imprint was characterized by SEM, AFM and cyclic voltammetry. A four-channel system was then established to enable simultaneous determination of the hormones by cyclic voltammetry. The detection limits for cortisol, progesterone, testosterone and 17β-estradiol are as low as 2, 2.5, 10 and 9 ag·mL−1 (for S/N = 3).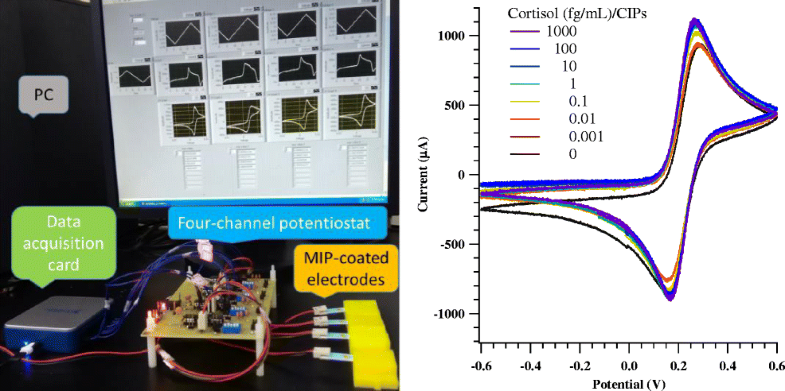 Keywords
Multichannel potentiostat 
Hormones 
Molecular imprinting 
Electrochemical sensing 
Urine analysis 
Notes
Acknowledgements
The authors would like to appreciate the Ministry of Science and Technology of the Republic of China, Taiwan for financially supporting this research under contract nos. MOST 106-2221-E-390-013-MY3, 106-2314-B-390-001-MY2 and 107-2923-M-390-001-MY3.
Compliance with ethical standards
Conflict of interest
The author(s) declare that they have no competing interests.
Copyright information
© Springer-Verlag GmbH Austria, part of Springer Nature 2019