Entropy-driven catalytic reaction-induced hairpin structure switching for fluorometric detection of uranyl ions
Abstract
An ultra-sensitive and "turn-on" method is demonstrated for the determination of uranyl ion. The assay is based on hairpin-to-DNAzyme structure switching that is induced by an entropy-driven catalytic reaction. An UO22+-specific DNAzyme is cleaved by UO22+ to produce a DNA fragment. This fragment initiates the entropy-driven catalytic reaction to produce a large number of a sequence "R". The sequence R initiates the circular cleavage of FAM-labeled hairpins by switching the hairpin to Mg2+-specific DNAzyme structure. This causes the recovery of green fluorescence. The method works in the 20 pM to 800 pM concentration range and the limit of detection is 4 pM.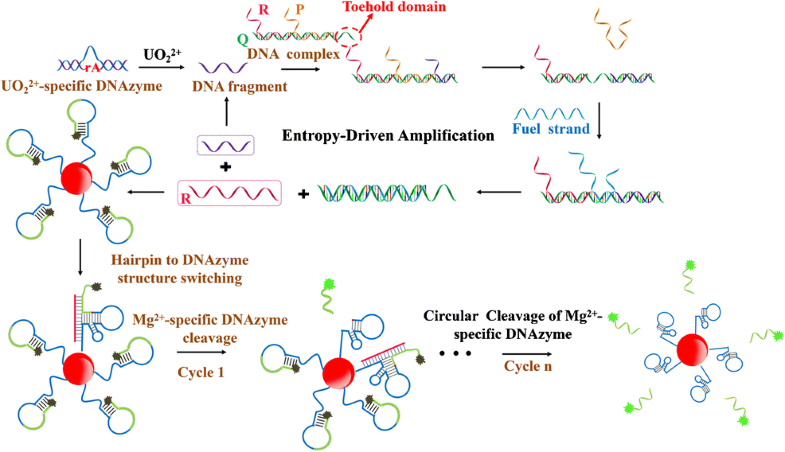 Keywords
Fluorescence 
DNAzyme 
Entropy-driven amplification 
Structure switching 
Notes
Acknowledgements
This work is sponsored by the Open Project of State Key Laboratory Cultivation Base for Nonmetal Composites and Functional Materials (Grant No. 17kffk06), the Project of Wenzhou Science &Technology Bureau (W20170006), National Natural Science Foundation of China (Grant No. 31300819), the Sichuan Science and Technology Program (2018GZ0521), the China Postdoctoral Science Foundation (Grant No. 2019 M653475).
Compliance with ethical standards
The author(s) declare that they have no competing interests.
Copyright information
© Springer-Verlag GmbH Austria, part of Springer Nature 2019