A nanocomposite prepared from reduced graphene oxide, gold nanoparticles and poly(2-amino-5-mercapto-1,3,4-thiadiazole) for use in an electrochemical sensor for doxorubicin
Abstract
A nanocomposite was prepared with reduced graphene oxide, gold nanoparticles and an electropolymerized film made from 2-amino-5-mercapto-1,3,4-thiadiazole. An electrochemical sensor for doxorubicin (DOX) was constructed by modifying a glassy carbon electrode (GCE) with the nanocomposite. The modified GCE was studied by electrochemical techniques which showed it to enable highly sensitive sensing of DOX. Response (typically measured at a typical working potential of −0.56 V vs. Ag/AgCl) is linear in the 30 pM to 30 nM and 30 nM to 30 μM DOX concentration ranges, with a limit of detection (LOD) of 9 pM (at an S/N ratio of 3). The method was applied to the determination of DOX in serum and gave recoveries that ranged between 92 and 108%.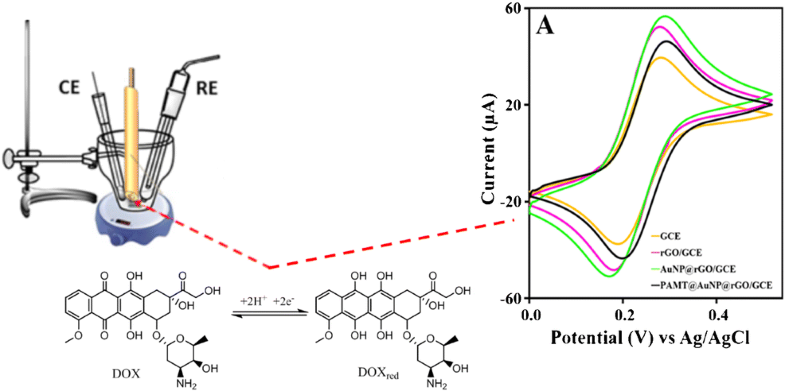 Keywords
Reduced graphene oxide 
Gold nanoparticles 
Poly 2-amino-5-mercapto-1,3,4-thiadiazole 
Doxorubicin 
Electrochemical sensor 
Notes
Acknowledgments
The financial support of this work by Iran University of Medical Sciences is gratefully acknowledged.
Compliance with ethical standards
The author(s) declare that they have been complianced all ethical standards.
Copyright information
© Springer-Verlag GmbH Austria, part of Springer Nature 2019