A nanocomposite prepared from metal-free mesoporous carbon nanospheres and graphene oxide for voltammetric determination of doxorubicin
Abstract
A metal-free catalyst is described that consists of a composite that can be prepared from mesoporous carbon spheres (MCS) and graphene oxide (GO) under mild aqueous synthetic conditions. The reduced graphene oxide (rGO) sheets tend to aggregate, but due to the insertion of MCS, the aggregation is prevented. This leads to a larger surface area and more adsorption sites for the cancer drug doxorubicin (DOX). The π-interaction between DOX and rGO is also beneficial for the adsorption of DOX. A glassy carbon electrode (GCE) was modified with the composite and used to detect low levels of DOX, typically at a peak potential near −0.45 V (vs. Ag/AgCl). The modified GCE has a wide linear response range (10 nM - 10 μM), a low limit of detection (1.5 nM; at S/N = 3), excellent selectivity, long-term storage stability and reproducibility. It was applied to the determination of DOX in spiked serum where it gave reliable results.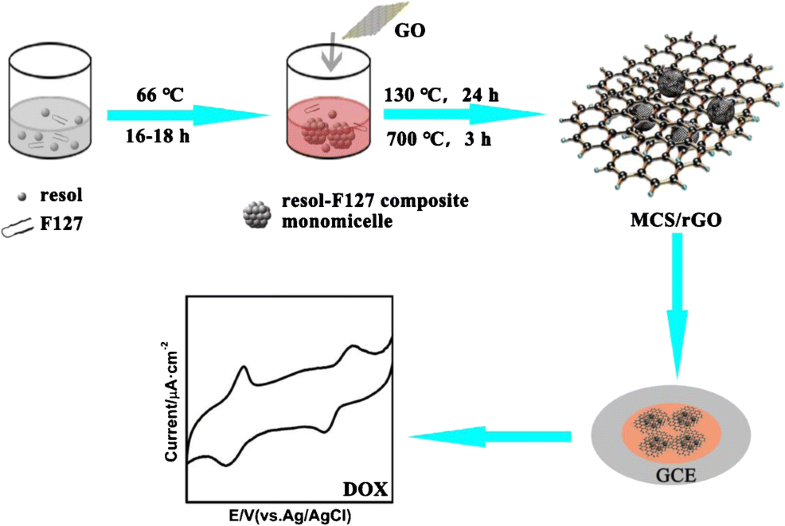 Keywords
Electrochemical determination 
Electrocatalyst 
Carbon composites 
Reduced graphene oxide 
Anthracycline 
Notes
Acknowledgments
Financial support from National Natural Science Foundation of China (21575021) and "the Fundamental Research Funds for the Central Universities (2412019QD008)" are highly appreciated.
Compliance with ethical standards
The author(s) declare that they have no competing interests.
Copyright information
© Springer-Verlag GmbH Austria, part of Springer Nature 2019