A ratiometric fluorescent nanoprobe consisting of ssDNA-templated silver nanoclusters for detection of histidine/cysteine, and the construction of combinatorial logic circuits
Abstract
A ratiometric fluorescent nanoprobe consisting of ssDNA-templated silver nanoclusters (DNA-AgNCs) as dual fluorophore has been constructed for highly sensitive and selective detection of cystein (Cys) and histidine (His). The DNA-AgNCs displays dual emission in that photoexcitation at 470 nm results in weak-green fluorescence peaking at 560 nm, while excitation at 550 nm gives strong red fluorescence with a peak at 595 nm. It is found that copper ions (Cu2+) enhance the green fluorescence but quenche the red fluorescence. A ratiometric nanoprobe for Cys (or His) is designed that is based on the competitive interaction of Cys (or His), Cu2+ and DNA-AgNCs. Cys can be distinguished from His by adding Ni2+ as the masking agent, andr His can be distinguished from Cys by adding N-ethylmaleimide (NEM) as the masking agent, respectively. The limits of detection are 5.1 and 4.5 nM for Cys and His, respectively. Furthermore, the ratiometric fluorescent nanoprobe is used for constructing combinatorial logic circuits in parallel, including OR//NOR and INHIBIT//IMPLICATION (INH//IMP).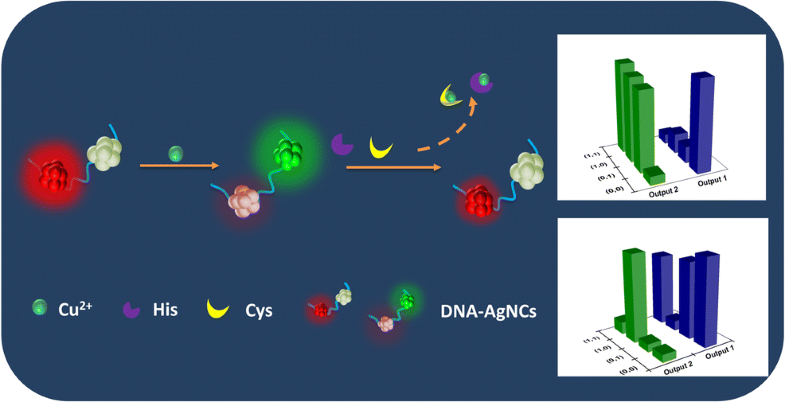 Keywords
Ratiometric nanoprobe 
Amino acid 
DNA-AgNCs 
Fluorometric biosensor 
Logic gates 
Notes
Acknowledgements
This work is supported by the National Natural Science Foundation of China (No. 21575138 and No. 21775108), and the Tianjin Science and Technology Project (No. 18PTSYJC00130).
Compliance with ethical standards
The author(s) declare that they have no competing interests.
Copyright information
© Springer-Verlag GmbH Austria, part of Springer Nature 2019