Visual detection of bacterial DNA using activated paper stripe
Abstract
A rapid and accurate detection of pathogens is essential for bedside or on-site diagnosis. Filter paper is an ideal diagnostic tool as it requires no equipment, possesses a high surface-area-to-volume ratio and a high capacity of capillary force. The functionalization of the surface of cellulose filter paper was explored by using glutaric anhydride, N-hydroxysuccinimide, and N,N′-dicyclohexylcarbodiimide. The activated surface systems enable aminated DNA to be immobilized on the surface of filter paper. Both synthetic oligonucleotides and bacterial genomic DNA of Staphylococcus aureus, Escherichia coli, and Campylobacter jejuni were detected successfully. The system produces a clear, consistent and highly visible brown signal within 1–5 min. The digital image can also be analyzed quantitatively due to the brown color resulting from the presence of magnetic beads. Bacterial DNA detection was accomplished by using 16S rDNA probe on the activated paper surface for universal bacterial diagnosis. The method is stable and repeatable. It can detect at least 0.5 pmol of a 120-base synthetic oligonucleotide per assay and 5–10 ng of bacterial DNA per assay.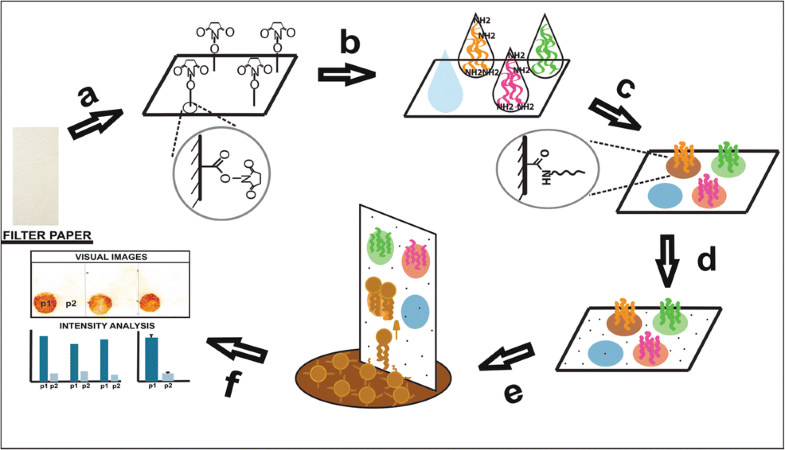 Keywords
Point-of-care testing 
Bacterial DNA detection 
16S rRNA gene 
Surface-functionalization system 
Cellulose filter paper 
Superparamagnetic beads 
Glutaric anhydride 
N-Hydroxysuccinimide 
N,N′-Dicyclohexylcarbodiimide 
Notes
Acknowledgements
This study was funded by the University of Illinois College of Medicine at Peoria start-up fund to PG, and a research grant from the Rising Tide Foundation (grant number CCR-17-400) to PG.
The authors would like to express their acknowledgement to Bryan Himmel from the University of Illinois at Urbana-Champaign, for language editing.
Author contributions
Devised and designed the study: YS and PG. Performed the experiments: YS. Analyzed the images and data: YS. Drafted the manuscript: YS. Revised and agreed upon the manuscript: YS and PG. Provided reagents: PG.
Compliance with ethical standards
The authors declare that they have no competing interest.
Copyright information
© Springer-Verlag GmbH Austria, part of Springer Nature 2019