Amperometric enzymatic sensing of glucose using porous carbon nanotube films soaked with glucose oxidase
Abstract
Glucose oxidase was soaked into a porous carbon nanotube film coating on a platinum disk electrode, then trapped beneath a topcoat of electrodeposition paint. The resulting sensors, operated at a potential of +0.6 V (vs. Ag/AgCl), produced a glucose signal that was linear up to 40 mM, with a 50 μM detection limit. Signal stability over >100 h of continuous operation in a flow cell showed the remarkable functional durability of the biosensor, and confirmed that the electropaint coating effectively prevented loss of the enzyme. This performance is deemed to derive from the minimalistic immobilization layer design and the prevention of protein leakage. The immobilization method has a potentially wide scope, in that it may also be applicable in other types of enzymatic biosensor.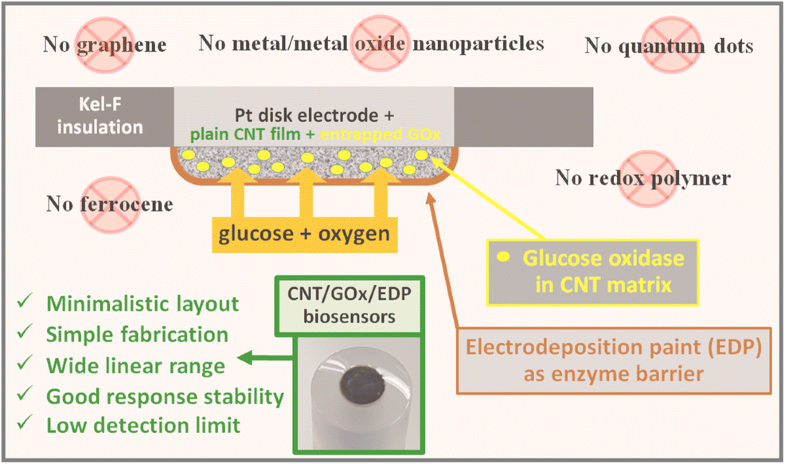 Keywords
Biosensors 
Nanomaterials 
Immobilization 
Amperometry 
Electrodeposition paint 
Notes
Acknowledgements
This work was supported by the Suranaree University of Technology (SUT) and the Office of the Higher Education Commission under NRU Project of Thailand through a SUT-PhD grant to WS and WR, Research Grant SUT1-102-52-24-01 to AS and budget allocations to AS and WS for maintenance of SUT's 'Biochemistry-Electrochemistry Research Unit'. Valued supplementary financial support came through budget allocations from SUT the Vidyasirimedhi Institute of Science and Technology (VISTEC) to Albert Schulte and Wipa Suginta. Sincere appreciation also goes to the company LHV Coatings Limited, Birmingham, England for kindly supplying the cathodic electrodeposition paint for research purposes and Dr. David Apps, quondam Reader, Edinburgh Medical School, University of Edinburgh, Scotland, for his critical manuscript reading and language improvements.
Compliance with ethical standards
The author(s) declare that they have no competing interests.
Copyright information
© Springer-Verlag GmbH Austria, part of Springer Nature 2019