Detection of tiopronin in body fluids and pharmaceutical products using red-emissive DNA-stabilized silver nanoclusters as a fluorescent probe
Abstract
Tiopronin is a widely used drug for treatment of cystinuria, rheumatoid arthritis and hepatic disorders. It is also an antidote to heavy metal poisoning and a radioprotective agent. A method is described for rapid and sensitive determination of tiopronin using DNA-stabilized silver nanoclusters (DNA–AgNCs) as a fluorescent probe. Tiopronin can selectively bind to DNA–AgNCs to form a stable Ag-S bond upon which the red photoluminescence (best measured at excitation/emission wavelengths of 590/640 nm) is quenched. The finding is used to design an assay that has a linear response in the 1–150 nM tiopronin concentration range and a 270 pM limit of detection. Compared with previously reported methods, the present approach is more rapid, highly sensitive and selective. It has been successfully applied in the detection of tiopronin in spiked urine and serum, and in pharmaceutical products (tablets and injections).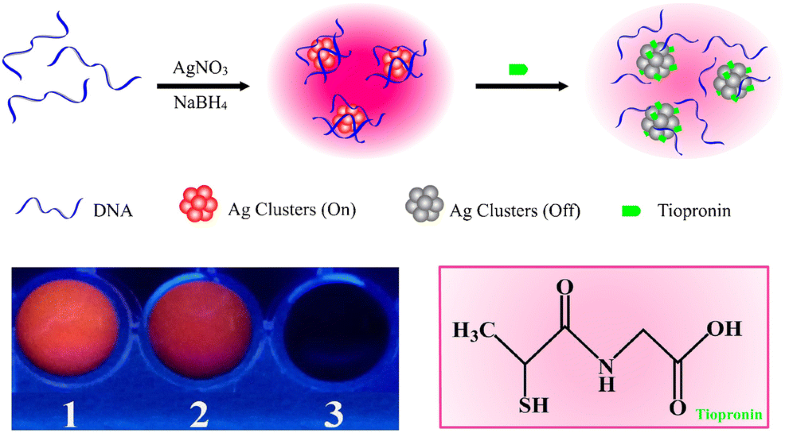 Keywords
Nanoparticles 
Fluorescence 
Quenching 
Drug assay 
Pharmaceutical analysis 
Notes
Acknowledgements
This work was supported by the National Natural Science Foundation of China (No. 21775014), Scientific and Technological Research Program of Chongqing Municipal Education Commission (No. KJQN201800439), and Natural Science Foundation of Chongqing, China (No. cstc2017jcyjAX0368). Yi Wang was also sponsored by the Chongqing High-level Personnel of Special Support Program (Youth Top-notch Talent).
Compliance with ethical standards
The author(s) declare that they have no competing interests.
Copyright information
© Springer-Verlag GmbH Austria, part of Springer Nature 2019