Fluorometric determination of sulfadiazine by using molecularly imprinted poly(methyl methacrylate) nanobeads doped with manganese(II)-doped ZnS quantum dots
Abstract
The surface of poly(methyl methacrylate) nanospheres (PMMA-NSs) was molecularly imprinted with sulfadiazine by a surface imprinting method. Simultaneously, Mn(II)-doped ZnS quantum dots were incorporated into the imprinted PMMA-NSs. The morphology of the fluorescent nanoprobe was characterized by transmission electron microscopy which revealed good spheroidal core-shell structure and a homogeneous distribution of the QDs. Following binding of sulfadiazine, fluorescence (best measured at excitation/emission maxima of 335/592 nm) is increasingly quenched. The detection range is 5–40 μmol·L−1 of sulfadiazine, and the detection limit is 0.24 μmol·L−1. The fluorescence quenching mechanism is discussed, and a photo-induced electron transfer process is shown to account for quenching. The fluorescent probe was applied to the determination of sulfadiazine in spiked tap water with recoveries and RSDs of 96.6–100.2% and 2.7–3.9%, respectively. The detection of sulfadiazine in spiked lake water exhibited the recoveries and RSDs with 99.3–104.8% and 1.8–4.2%, respectively.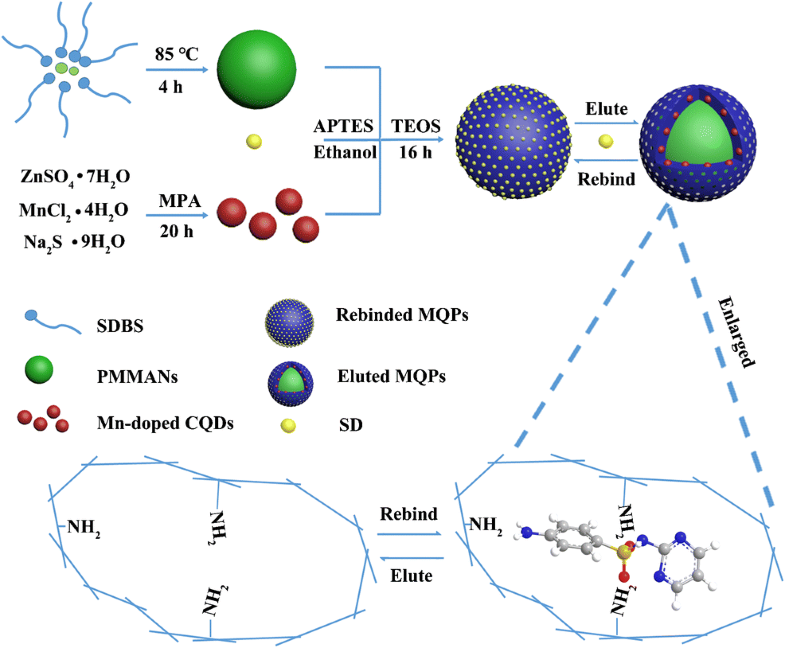 Keywords
Molecular imprinting polymers 
Sulfadiazine detection 
Mn-doped ZnS quantum dots 
Absorbability 
Quenching mechanism 
Notes
Acknowledgements
This work was financially supported by the National Natural Science Foundation of China (Grant No. 21677064), Zhenjiang Natural Science Foundation of China (Grant Nos. SH2017046, SH2017048 and SH2017055), Scientific Research Foundation of Jiangsu University (Grant No. 17A008).
Compliance with ethical standards
The author(s) declare that they have no competing interests.
Copyright information
© Springer-Verlag GmbH Austria, part of Springer Nature 2019