A simple method for the preparation of multi-color carbon quantum dots by using reversible regulatory color transformation
Abstract
It is known that polychromatic carbon quantum dots (CQDs) can be obtained by doping and surface modification. The layer-wise synthesis of blue and green emitting CQDs (with typical sizes between 3 and 6 nm) is described here by adding oxalic acid and by introducing polycarboxy groups. By changing the external environment, the emission of CQDs can be adjusted in the blue-green spectral region (469–527 nm) under photoexcitation at 405 nm. The findings presented here provide new directions for the reversible regulatory transformation of polychromatic CQDs. The luminescence also is affected by a variety of conditions such as surface defects, degree of polymerization, polarity of external solutions, and hydrogen bonding which is studied in some detail.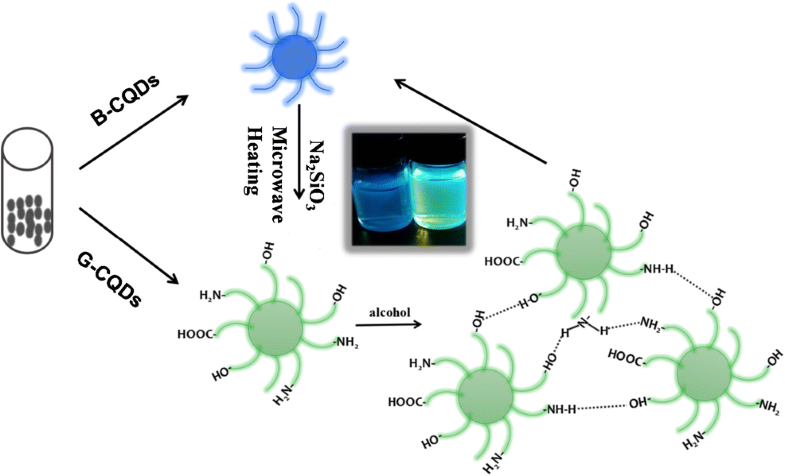 Keywords
Carbon quantum dots 
Multicolor fluorescence 
Reversible regulation 
Oxalic acid 
Hydrogen bonding 
Polycarboxy groups 
Luminescent materials 
Notes
Acknowledgements
This work is supported by National Natural Science Foundation of China (Grant No. 61574063); Science and Technology Program of Guangdong Province, China (Grant Nos. 2017A050506047, 2017B030311013); Guangzhou Science and Technology Project (Grant Nos. 201904010399, 201804010169); Science and Technology Development Fund (FDCT 084/2016/A2) from Macau SAR; Multi-Year Research Grants (MYRG-00149-FST) from University of Macau.
Compliance with ethical standards
The author(s) declare that they have no competing interests.
Copyright information
© Springer-Verlag GmbH Austria, part of Springer Nature 2019