An electrochemiluminescence immunosensor for the N-terminal brain natriuretic peptide based on the high quenching ability of polydopamine
Abstract
A sandwich-type electrochemiluminescence (ECL) immunosensor for the N-terminal brain natriuretic peptide (NT-proBNP) is described. The assay is based on the quenching of the ECL of graphite-like carbon nitride (g-C3N4) by polydopamine (PDA). Two-dimensional g-C3N4 is grown in-situ on titanium dioxide nanoflowers (TiO2 NFs). The macroporous structure of the NFs enhances the interfacial stability of g-C3N4, and also promotes the ECL reaction of g-C3N4 with the co-reactant. The introduction of gold nanoparticles into the matrix further enhances the ECL and facilitates the immobilization of capture antibodies. The nanoquencher used to label the secondary antibody is synthesized by catalytic polymerization of dopamine in the presence of bimetallic NiPd nanoparticles. The nanoquencher preserves the high reactivity of polydopamine and quenches the ECL of the g-C3N4/TiO2 system. Compared to other methods, the detection limit for NT-proBNP is decreased to 50 fg∙mL−1.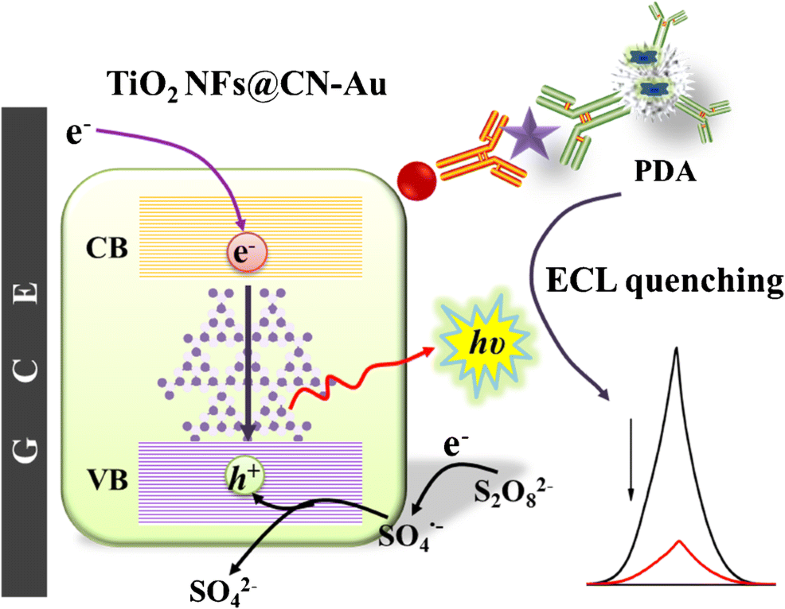 Keywords
Nickel-palladium nanoparticles 
Biosensor 
Titanium dioxide nanoflowers 
Catalytic polymerization 
Carbon nitride 
Heart failure biomarker 
Notes
Acknowledgments
This work is supported by the National Natural Science Foundation of China (21675063, 21575050), the National Key Scientific Instrument and Equipment Development Project of China (No. 21627809), the Science and Technology Planning Project of Higher Education of Shandong Province (J16LC23), the Taishan Scholar Foundation of Shandong Province (Grant No. ts20130937).
Compliance with ethical standards
The author(s) declare that they have no competing interests.
Copyright information
© Springer-Verlag GmbH Austria, part of Springer Nature 2019