An ultrasensitive guanine wire-based resonance light scattering method using G-quadruplex self-assembly for determination of microRNA-122
Abstract
An enzyme-free resonance light scattering (RLS) method is described for the determination of microRNA-122. A guanine nanowire (G-wire) is used that consists of a predesigned DNA1 and a G-quadruplex sequence DNA2. These hybridize with microRNA-122 and partially hybridize with DNA2. After formation of stable double strands with DNA1, DNA2 is released. On addition of K+ and Mg2+ ions, the G-quadruplex sequences undergo self-assembly to form long filamentous G-wires. This increases the intensity of RLS. A 6.1 pM detection limit was obtained, and the linear response covers the 50 pM to 300 nM microRNA concentration range. The method was successfully applied to the quantitation of microRNA-122 in hepatocellular carcinoma cell lysates. Conceivably, this assay can be extended to other RLS methods for biomarker detection by simply changing the sequence of DNA1.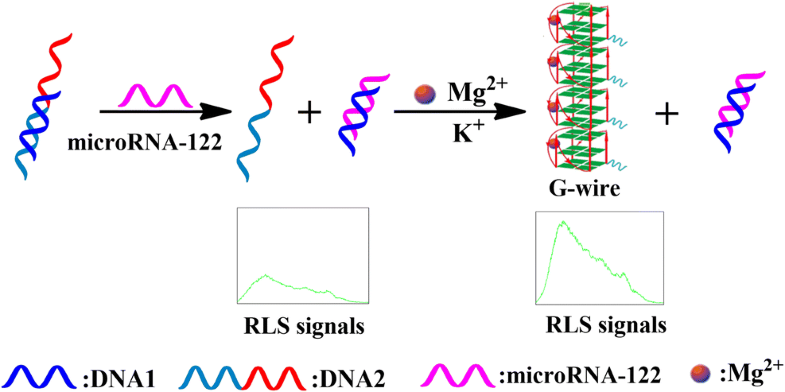 Keywords
G-wire 
Label-free 
Enzyme-free 
Cell lysates 
Notes
Acknowledgements
This work was supported by the National Natural Science Foundation of China (No. 21775132), Scientific Research Foundation of Hunan Provincial Education Department (No. 16A204), and the National Natural Science Foundation of Hunan province (No.2018JJ2388). Hunan 2011 Collaborative Innovation Center of Chemical Engineering & Technology with Environmental Benignity and Effective Resource Utilization, the project of innovation team of the ministry of education (IRT_17R90), and "1515"academic leader team program of Hunan Agricultural University.
Compliance with ethical standards
The author(s) declare that they have no competing interests.
Copyright information
© Springer-Verlag GmbH Austria, part of Springer Nature 2019