Point-of-care amperometric determination of L-dopa using an inkjet-printed carbon nanotube electrode modified with dandelion-like MnO2 microspheres
Abstract
An electrochemical sensor is described for the determination of L-dopa (levodopa; 3,4-dihydroxyphenylalanine). An inkjet-printed carbon nanotube (IJPCNT) electrode was modified with manganese dioxide microspheres by drop-casting. They coating was characterized by field emission scanning electron microscopy, Fourier-transform infrared spectroscopy and X-ray powder diffraction. The sensor, best operated at a working voltage of 0.3 V, has a linear response in the 0.1 to 10 μM L-dopa concentration range, a 54 nM detection limit, excellent reproducibility, repeatability and selectivity. The amperometric approach was applied to the determination of L-dopa in spiked biological fluids and displayed satisfactory accuracy and precision.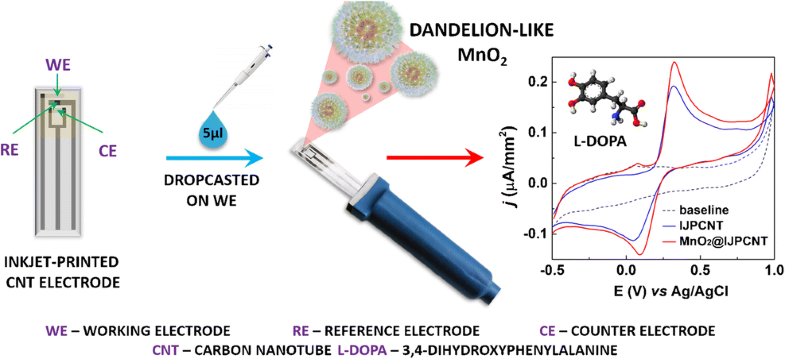 Keywords
Levodopa 
Electrochemical sensor 
Manganese dioxide 
Cyclic voltammetry 
Amperometry 
Point-of-care 
Notes
Acknowledgements
This work was supported by MagBioVin project (FP7-ERAChairs-Pilot Call-2013, Grant agreement: 621375), by the Ministry of Education, Science and Technological Development of the Republic of Serbia (Project No. OI 172030, Project OI172049).
Compliance with ethical standards
The author(s) declare that they have no competing interests.
Copyright information
© Springer-Verlag GmbH Austria, part of Springer Nature 2019