Gold nanoclusters as a near-infrared fluorometric nanothermometer for living cells
Abstract
The authors describe the syntheses and application of glutathione-capped gold nanoclusters (AuNCs) with thermoresponsive properties. The AuNCs have excitation/emission maxima at 430/610 nm and the bright redfluorescence changes along with the temperature in the range from 0 to 90 °C which covers the normal temperature range of living cells. In the range of physiological temperatures (35–42 °C), the temperature resolution is 0.73 °C. The AuNCs display excellent colloidal stability and biocompatibility. They were used for fluorometric temperature detection and imaging of hepatic stellate cells. With such attractive features, the AuNCs are quite promising luminescence nanothermometers.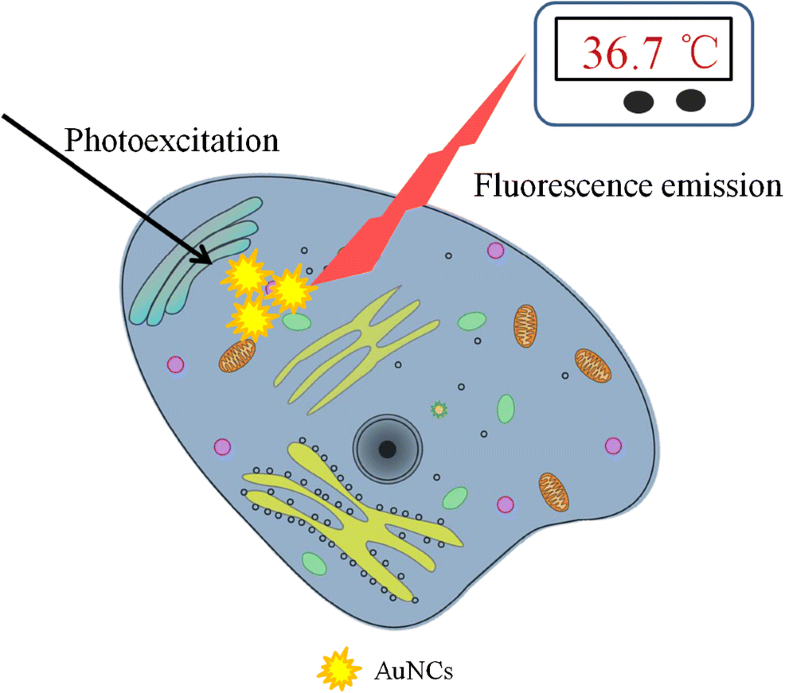 Keywords
AuNCs 
NIR fluorescence 
Nanothermometer 
Temperature detection 
Cellular imaging 
Notes
Acknowledgements
The authors gratefully appreciate the support from the National Natural Science Foundation of China (81671756), Key Research Project of Science and Technology Foundation of Hunan Province (2017SK2093 and 2018GK5004), The State Key Laboratory of Drug Research (SIMM1803KF-14), andProjects of Medical and Health Technology Development Program in Shandong Province (2018WS471).
Compliance with ethical standards
The author(s) declare that they have no competing interests.
Copyright information
© Springer-Verlag GmbH Austria, part of Springer Nature 2019