A turn-on fluorescent sulfide probe prepared from carbon dots and MnO2 nanosheets
Abstract
A turn-on fluorescent sulfide probe was prepared from carbon dots (CDs; synthesized using an environmentally friendly method) and MnO2 nanosheets. In this composite probe, the fluorescence of the CDs (with excitation/emission peaks at 330/430 nm) is quenched by the MnO2 nanosheets through an inner filter effect. Introducing sulfide causes the MnO2 nanosheets to be disintegrated through a redox reaction between sulfide and MnO2. Hence, the blue fluorescence of the CDs is restored. Under the optimum conditions, fluorescence increases linearly in the 2–25 μM sulfide concentration range. The detection limit is 0.8 μM. The method was used to analyze spiked real water samples, and satisfactory results were achieved.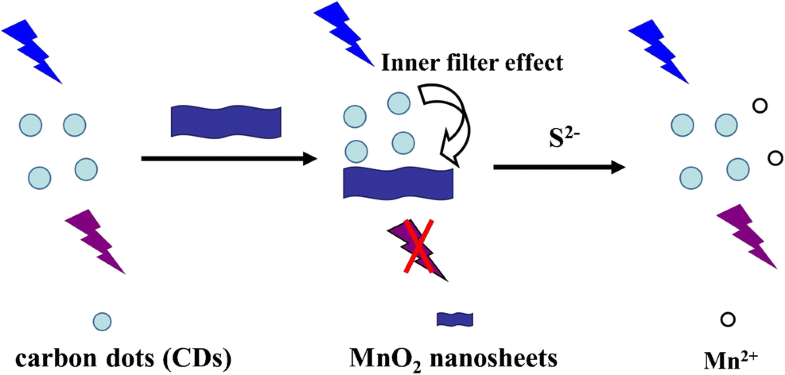 Keywords
Fluorescence quenching 
Sulfide probe 
Nanomaterial 
Inner filter effect 
Redox reaction 
Notes
Acknowledgements
This work was supported by the National Natural Science Foundation of China (21205002, 21762004) and the Natural Science Foundation of Anhui Province, China (1708085 MB48).
Compliance with ethical standards
The author(s) declare that they have no competing interests.
Copyright information
© Springer-Verlag GmbH Austria, part of Springer Nature 2019