A FRET-based fluorescent probe for hydrogen peroxide based on the use of carbon quantum dots conjugated to gold nanoclusters
Abstract
In the Fenton reaction, ferrous ion acts as a catalyst and reacts with hydrogen peroxide (H2O2) to produce hydroxy radicals (·OH) and hydroperoxy radicals (·OOH). Both have much stronger oxidization ability than H2O2. A fluorescent probe for H2O2 is described here that was obtained by covalent conjugation of carbon quantum dots to gold nanoclusters (AuNCs). The conjugate, under 360 nm photoexcitation, displays dual (blue and red) emission, with peaks located at 450 and 640 nm. When introducing ·OH radicals via the Fenton reaction, the fluorescence intensities of both the CQDs and the AuNCs are decreased. The ratio of the fluorescence at the two peaks is related to the concentration of H2O2 in the 1.25 nM to 10 μM concentration range, and the detection limit is 0.16 nM. The probe was applied to the determination of H2O2 in milk and toothpaste and to cell imaging.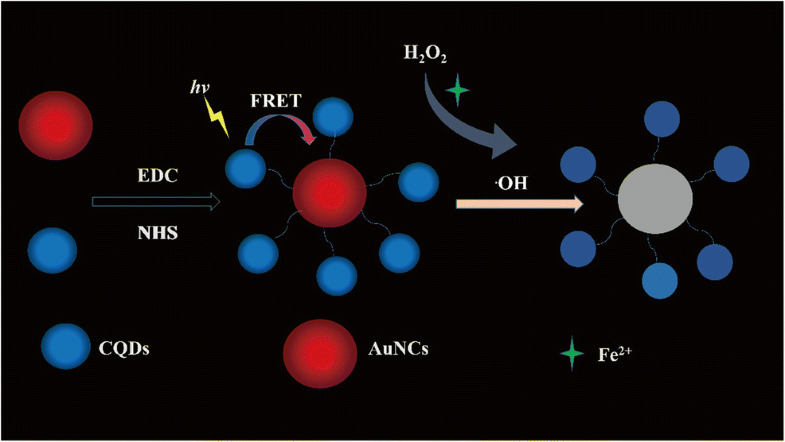 Keywords
Dual-emission fluorescent probe 
Fenton reaction 
Hydrogen peroxide (H2O2) 
Cellular imaging 
Fluorescence resonance energy transfer 
Ratiometric probe 
Notes
Acknowledgments
We thank financially support from Shanghai Science and Technology Committee (17070503000), Shanghai Engineering Research Center of Green Energy Chemical Engineering, International Joint Laboratory on Resource Chemistry (IJLRC), Program for Changjiang Scholars and Innovative Research Team in University (IRT_16R49).
Author contributions
The manuscript was written through contributions of all authors. All authors have given approval to the final version of the manuscript.
Compliance with ethical standards
The author(s) declare that they have no competing interests.
Copyright information
© Springer-Verlag GmbH Austria, part of Springer Nature 2019