A fluorometric assay for oxytetracycline based on the use of its europium(III) complex and aptamer-modified silver nanoparticles
Abstract
An ultrasensitive assay is described for the determination of oxytetracycline (OTC) at nanomolar levels. The method is using silver nanoparticles (AgNPs) that were first modified with OTC-binding aptamer and then exposed to the OTC-Eu(III) complex. The pink fluorescence of the OTC-Eu(III) complex on the AgNPs is almost completely quenched. On addition of OTC, it will compete with the OTC-Eu(III) complex for binding to the aptamer on the AgNPs. The OTC-Eu(III) complex is released and becomes strongly fluorescent, with excitation/emission peaks at 385/620 nm. The resulting assay was validated in terms of linearity and linear range, sensitivity, selectivity, detection limit and accuracy. Under optimum conditions, response is linear in the 10 to 500 nM OTC concentration range, and the limit of detection is 1.9 nM. The method was applied to the determination of OTC in spiked milk and tablets samples, and it gave satisfactory results.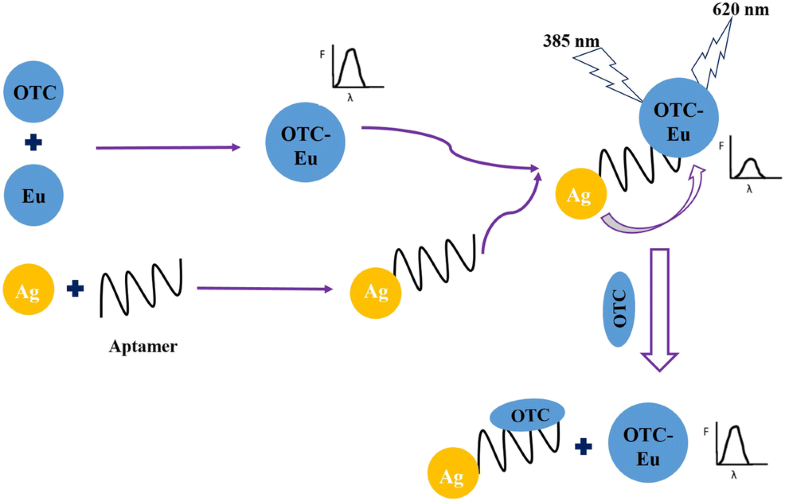 Keywords
Antibiotic 
OTC-Eu3+ complex 
Recovery assay 
Fluorescence quenching method 
Triton X-100 
Milk analysis 
Notes
Acknowledgments
Financial support of this study was provided by the Mashhad University of Medical Sciences (grant number: 951099) and the Ferdowsi University of Mashhad (grant number: 3/42232).
Compliance with ethical standards
The author(s) declare that they have no competing interests.
Copyright information
© Springer-Verlag GmbH Austria, part of Springer Nature 2019