A glassy carbon electrode modified with molecularly imprinted poly(aniline boronic acid) coated onto carbon nanotubes for potentiometric sensing of sialic acid
Abstract
A potentiometric sensor for sialic acid (SA) was developed based on molecular imprinting technique. The sensor was fabricated by modifying carbon nanotubes (CNT) and an SA-imprinted poly(aniline boronic acid) (PABA) film on a glassy carbon electrode (GCE). The detection strategy capitalizes on the change of electrochemical potential resulting from boronic acid-SA interaction. The imprinted PABA combines the functions of SA-binding boronic acid groups and the imprinting effect, thus endowing it with both chemical and sterical recognition capability. The imprint factor (IF, compared to a non-molecularly imprinted polymer) is 1.74. The sensor can well differentiate SA from its analogs at physiological pH values and has a linear potentiometric response (R2 = 0.998) in 80 μM to 8.2 mM SA concentrations range with a detection limit of 60 μM (at S/N = 3). The sensor was applied to the determination of SA in serum samples and gave recoveries between 93% and 105%.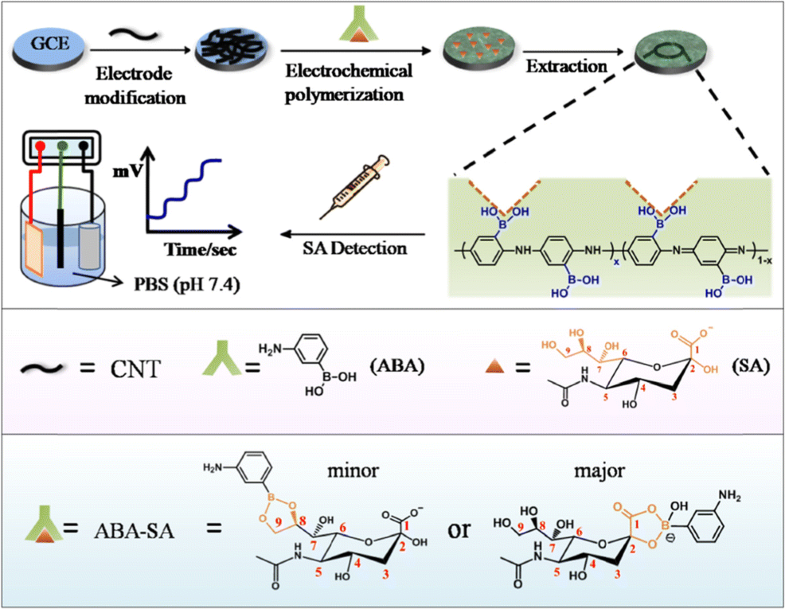 Keywords
Sialic acid 
Poly(aniline boronic acid) 
Carbon nanotubes 
Physiological pH value 
Molecularly imprinted polymer 
Potentiometric response 
Electrochemical sensor 
Notes
Acknowledgements
The authors are grateful to the financial support by the National Natural Science Foundation of China (51503126 and 21534008) and the kind help of Ms. Fan Yang from Guanghan Chenglin Hospital.
Compliance with ethical standards
The author(s) declare that they have no competing interests.
Copyright information
© Springer-Verlag GmbH Austria, part of Springer Nature 2019