Fluorometric methods for determination of H2O2, glucose and cholesterol by using MnO2 nanosheets modified with 5-carboxyfluorescein
Abstract
A fluorescent probe for H2O2 is described. It is composed of MnO2 nanosheets and 5-carboxyfluorescein and was characterized by fluorescence, transmission electron microscopy, ultraviolet-visible absorption spectra, energy dispersive X-ray and Fourier transform infrared spectroscopy. The probe, with fluorescence excitation/emission maxima at 490/518 nm, responds to H2O2 in the 1 to 200 μM concentration range and has a 0.33 μM detection limit. The probe was used in enzymatic assays for glucose and cholesterol by using the respective oxidases which produce H2O2. Responses are linear in the concentration range from 0.5 to 200 μM in case of glucose, and from 1 to 300 μM in case of cholesterol. The method was applied to quantify glucose and cholesterol in (spiked) serum samples.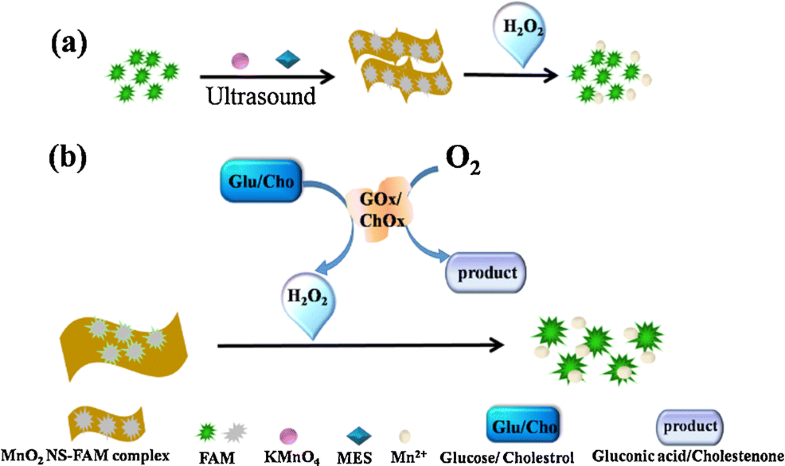 Keywords
Fluorometric assay 
Nanoprobe 
Hydrogen peroxide 
Manganese dioxide 
Notes
Acknowledgements
This work was financially supported by the National Natural Science Foundation of China (Grants 21675001), the Anhui Provincial Natural Science Foundation (1608085 MB46, 1608085MC67), the Anhui Provincial Education Department Natural Sciences Key Fund (KJ2016SD23), the Key Program in the Youth Elite Support Plan in Universities of Anhui Province (gxyqZD2016023), Provincial Project of Natural Science Re-search for Colleges and Universities of Anhui Province of China (KJ2016A274).
Compliance with ethical standards
The author(s) declare that they have no competing interests.
Copyright information
© Springer-Verlag GmbH Austria, part of Springer Nature 2019