A fluorometric and colorimetric method for determination of trypsin by exploiting the gold nanocluster-induced aggregation of hemoglobin-coated gold nanoparticles
Abstract
A dual-signal assay is described for the determination of trypsin based on the use of gold nanoparticles (AuNPs) that aggregate in the presence of gold nanoclusters (AuNCs) due to electrostatic interaction. This is accompanied by a color change from red to blue. However, if hemoglobin (Hb) is present in the solution, it will attach to the surface of AuNPs, thus preventing aggregation. The Hb-coated AuNPs quench the fluorescence of AuNCs. Trypsin can hydrolyze Hb and destroy the protective coating of Hb on the AuNPs. As a result, AuNP aggregation will occur after the addition of AuNCs, and the blue fluorescence of the AuNCs with 365 nm excitation and 455 nm maximum emission peak is recovered. Thus, trypsin can be determined by measurement of fluorescence emission intensity. Additionally, trypsin can be determined by the maximum absorption peak wavelength between 530 nm and 610 nm. Fluorescence increases linearly in the 10–2500 ng⋅mL−1 concentration range, and absorbance in the 20–2000 ng·mL−1 concentration range. The limits of detection are 4.6 ng·mL−1 (fluorometry) and 8.4 ng·mL−1 (colorimetry), respectively. The assay is sensitive and selective, and can be applied to the determination of trypsin in serum.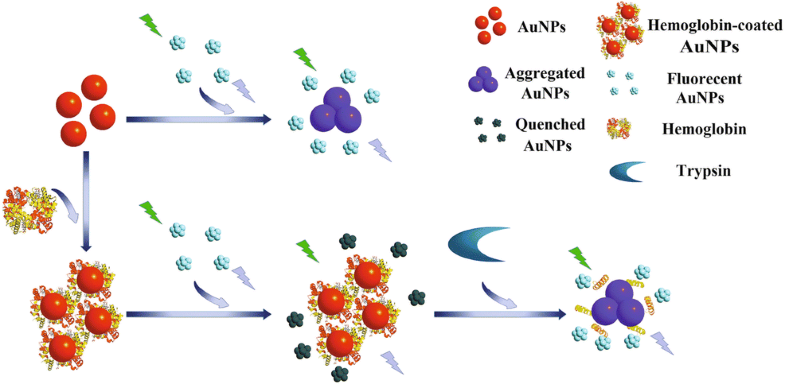 Keywords
Dual-signal assay 
Fluorescence resonance energy transfer 
Hemoglobin coated gold nanoparticles 
Fluorescence 
Colorimetry 
Electrostatic interaction 
Serum analysis 
Notes
Acknowledgments
This work was supported by a grant from the Two-Way Support Programs of Sichuan Agricultural University (Project No.03570113), the Education Department of Sichuan Provincial, P. R. China (Grant No. 16ZA0039), National Natural Science Foundation of China (Grant No. 11404358).
Compliance with ethical standards
The author(s) declare that they have no competing interests.
Copyright information
© Springer-Verlag GmbH Austria, part of Springer Nature 2019