Carbon dots on V2O5 nanowires are a viable peroxidase mimic for colorimetric determination of hydrogen peroxide and glucose
Abstract
A nanocomposite was hydrothermally prepared from C-dots and V2O5 nanowires, and characterized by TEM, FTIR and XRD. Due to the synergistic effects between C-dots and V2O5 nanowires, the nanocomposite is found to possess peroxidase-mimicking activity. This finding was exploited to design colorimetric methods for determination of H2O2 and glucose (via glucose oxidase) by using of 3,3′,5,5′-tetramethylbenzidine (TMB) as the chromogenic substrate. The C-dot/V2O5 nanocomposite catalyzes hydrogen peroxide to oxidize TMB and the resultant product, i.e., TMB* produces a blue color in the solution. Also for glucose determination, at first glucose reacts with dissolved oxygen in the presence of glucose oxidase and generates H2O2. Then, produced H2O2 was monitored by the C-dot/V2O5 nanozyme in the presence of TMB. Intensity of the blue color in the solution at wavelength of 650 nm is an indication of H2O2 or glucose concentration. The response to H2O2 is linear in the 0.5–520 μM concentration ranges, and that for glucose from 0.7 μM to 300 μM.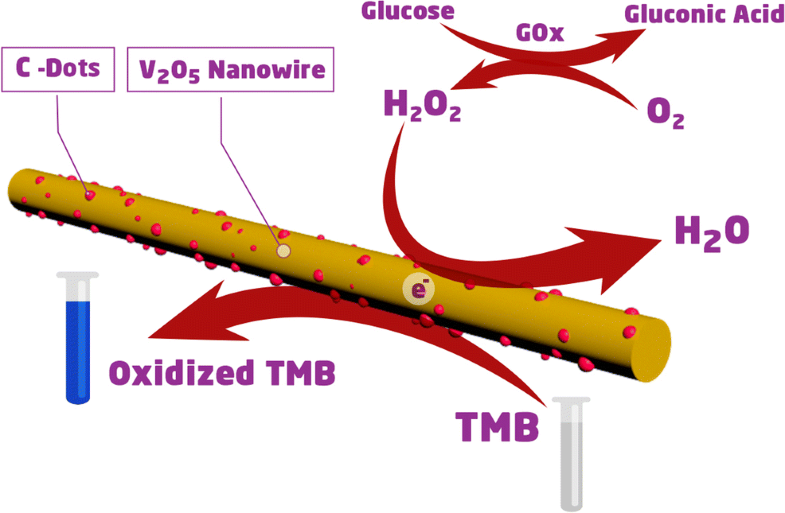 Keywords
Nanozyme 
Nanocomposite 
Peroxidase 
Colorimetric assay 
Biomimetic nanomaterials 
Notes
Acknowledgments
The authors wish to acknowledge the support of this work by Islamic Azad University, Shiraz Branch.
Compliance with ethical standards
The author(s) declare that they have no competing interests.
Copyright information
© Springer-Verlag GmbH Austria, part of Springer Nature 2019