A bioinspired antifouling zwitterionic interface based on reduced graphene oxide carbon nanofibers: electrochemical aptasensing of adenosine triphosphate
Abstract
An antifouling electrochemical aptasensor for ATP is described that has a zwitterionic self-assembled sensing interface on a glassy carbon electrode modified with a reduced graphene oxide carbon nanofiber (GO-CNF). The GO-CNF was first modified by self-polymerization of dopamine which provided a platform for simultaneously self-assembly of the ATP aptamer and cysteine. By using hexacyanoferrate as the electrochemical probe, in the presence of ATP, the aptamer strands fold around ATP molecules, thus leading to the variation of the electrochemical signal. The aptasensor has a linear response in the 0.1 pM to 5 nM ATP concentration range, and a 13 fM lower detection limit. The electrode is strongly resistant to nonspecific adsorption and biofouling. This enabled the detection of ATP even in spiked human plasma.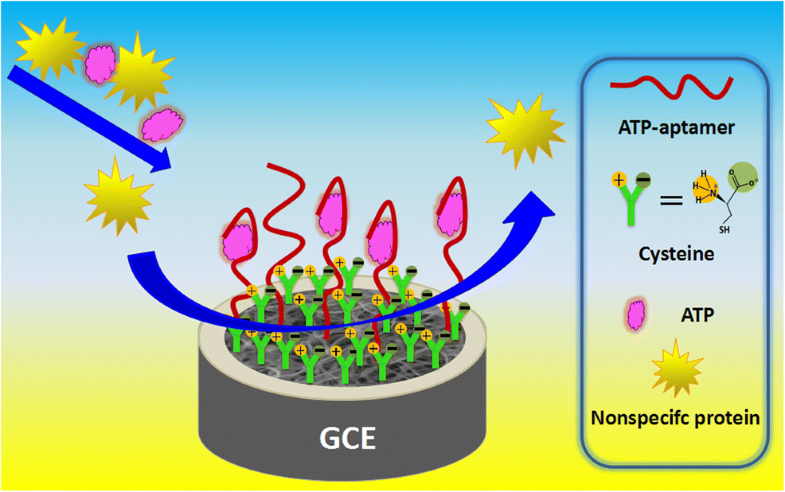 Keywords
Disease biomarkers 
Cysteine 
Biocompatibility 
Impedance 
Mixed self-assembly 
Notes
Acknowledgements
This work acknowledges support from the National Natural Science Foundation of China (No. 21375045) and Natural Science Foundation of Jilin Province (No. 20180101195JC).
Compliance with ethical standards
The author(s) declare that they have no competing interests.
Copyright information
© Springer-Verlag GmbH Austria, part of Springer Nature 2019