A fluorometric paper test for chromium(VI) based on the use of N-doped carbon dots
Abstract
Water-soluble nitrogen-doped carbon quantum dots (C-dots) were fabricated by microwave-induced decomposition of the precursor materials citric acid and N,N′-bis(2-aminoethyl)-1,2-ethanediamine. The C-dots were placed on portable paper strips with novel origami designs to simplified user operations. The intensity of the blue fluorescence, best measured at excitation/emission wavelengths of 330/420 nm, depends on the pH value in the range from pH 2 to 12. The C-dots on the paper stripe are shown to be a sensitive fluorescent probe for chromium(VI) via an inner filter effect. Response is linear in the 0.08 to 1 mM concentration range, and the detection limit (at S/N = 3) is 0.14 mM. The test was applied to the determination of chromium(VI) in (spiked) environmental water samples.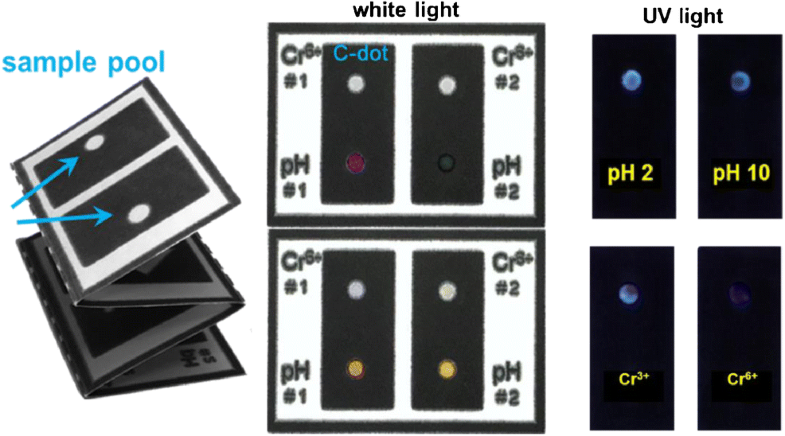 Keywords
Carbon dots 
Three-dimensional paper analytical devices 
Chromium(VI) 
Origami 
Paper microfluidic 
Fluorescence 
Environmental analysis 
Notes
Acknowledgements
This work was funded by the Ministry of Science and Technology of Taiwan under the project number 107-2113-M-003-013-MY3. We thank Yi-Ju Chou for helpful discussions.
Compliance with ethical standards
The author(s) declare that they have no competing interests.
Copyright information
© Springer-Verlag GmbH Austria, part of Springer Nature 2019