Hierarchical Co3O4@NiMoO4 core-shell nanowires for chemiresistive sensing of xylene vapor
Abstract
Hierarchical Co3O4@NiMoO4 core-shell nanowires (NWs) were synthesized utilizing a two-step hydrothermal method. The NWs show a high chemiresistive response (at a temperature of 255 °C) to xylene, with an Rgas/Rair ratio of 24.6 at 100 ppm xylene, while the response towards toluene, benzene, ethanol, and acetone, CO, H2S and NO2 is much weaker. In contrast, pure Co3O4 nanowires exhibit weak responses to all the vapors/gases and poor selectivity. The new NW sensor displays an almost linear response (1–100 ppm) to xylene and a lower detection limit of 424 ppb. The remarkable gas sensing characteristics are attributed to the synergistic catalytic effect and the formation of a heterostructure between Co3O4 and NiMoO4.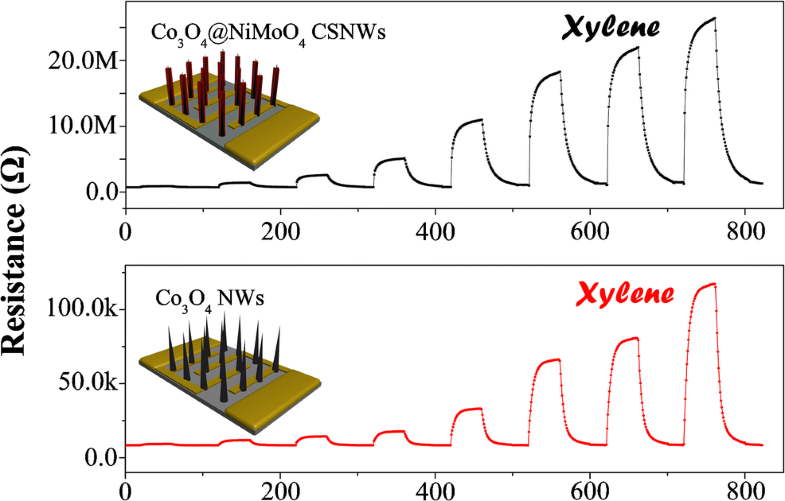 Keywords
Gas sensing 
Heterostructure 
Partial catalytic oxidation 
Cobalt oxide 
Nickel molybdenum oxide 
Synergistic effect 
Hydrothermal synthesis 
Semiconductors 
Notes
Acknowledgments
This work is supported by National Key Research and Development Plan (Grant No. 2016YFB0101205), Key Program of the Chinese Academy of Sciences (Grant No. KFZD-SW-320) and Opened Fund of the State Key Laboratory on Integrated Optoelectronics (Grant No. IOSKL2017KF08M). M. Yang would like to thank for the Ningbo 3315 program.
Compliance with ethical standards
The author(s) declare that they have no competing interests.
Copyright information
© Springer-Verlag GmbH Austria, part of Springer Nature 2019