Immunochromatographic fluorometric determination of clenbuterol with enhanced sensitivity
Abstract
A method is described to enhance the sensitivity of an immunochromatographic assay for clenbuterol (CLE) by making use of dually-labeled gold nanoparticles (GNPs), background fluorescence blocking, and immunomagnetic separation. The GNPs were labeled with biotinylated antibody and streptavidin, respectively, and dually labeled GNPs were obtained via the biotin-streptavidin interaction to amplify the detection signal. The fluorescent signal was blocked by dually labeled GNPs and decreased as the dually labeled GNPs aggregation increases on nitrocellulose membrane, which derived from fluorescent polyvinylchloride card. However, fluorescence (measured at excitation/emission wavelengths of 518/580 nm) recovers when CLE reacts with dually labeled GNPs. Immunomagnetic separation was first applied for sample pretreatment. This can offset the matrix effect and improves the sensitivity and accuracy of the assay. Under the optimal conditions, the limits of detection of CLE visually were 0.25 μg·L−1. In addition, clenbuterol can be quantified in swine urine with a 0.03 μg·L−1 detection limit. This is 60-fold lower than current immunochromatography. Response is linear in the 0.06–0.59 μg·L−1 concentration range, and the recoveries from spiked swine urine range from 81 to 115%."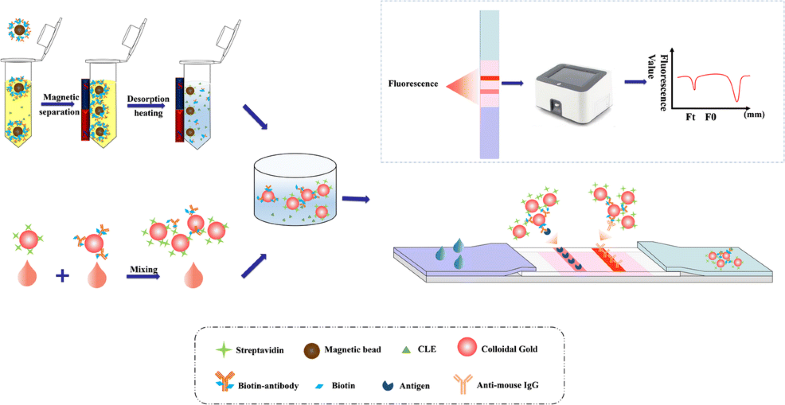 Keywords
Lateral flow immunoassay 
Dual-labeled gold nanoparticles 
Background fluorescence 
Fluorescence blocking 
Immunomagnetic separation 
Signal amplification 
Clenbuterol 
Swine urine 
Notes
Funding
This study was supported financially by grants from the Ministry of Science and Technology of People's Republic of China (2017YFF0211003).
Compliance with ethical standards
The author(s) declare that they have no competing interests.
Ethical approval
This article does not contain any studies with human participants or animals performed by any of the authors.
Informed consent
Not applicable.
Copyright information
© Springer-Verlag GmbH Austria, part of Springer Nature 2019