A nitrocellulose paper strip for fluorometric determination of bisphenol A using molecularly imprinted nanoparticles
Abstract
The authors describe a test stripe for fluorometric determination of the endocrine disruptor bisphenol A (BPA). Graphene quantum dots (GQDs) were immobilized on molecularly imprinted nanoparticles which then were placed on nitrocellulose paper. The GQDs display blue fluorescence (with excitation/emission peaks at 350/440 nm) which is reduced in the presence of BPA. The test stripe has a 43.9 ± 0.8 μg·L−1 limit of detection in case of water samples. The stripe was applied to the determination of BPA in (spiked) tap water and sea water, and the LODs were found to be 1.8 ± 0.2 μg·L−1 and 4.2 ± 0.5 μg·L−1, respectively. Structural analogs of BPA, such as aminophenol, phenol, hydroquinone and naphthol were found not to interfere.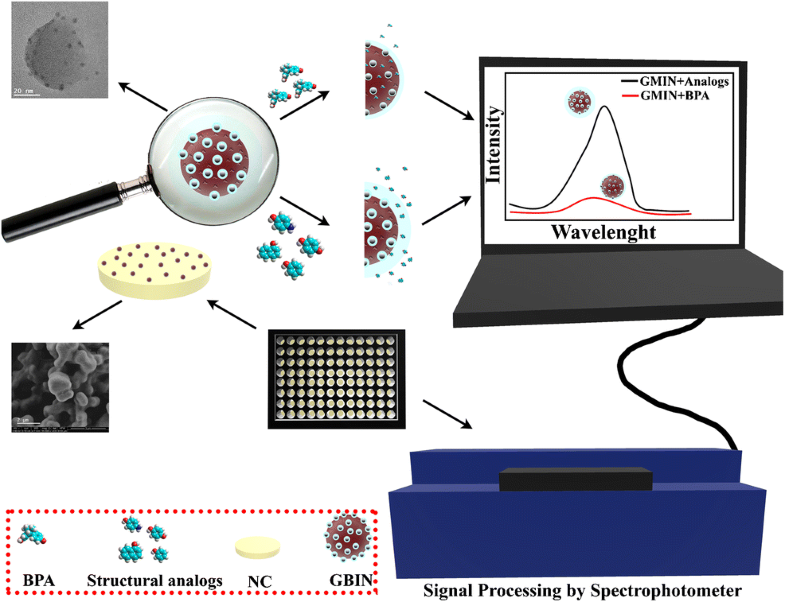 Keywords
Graphene quantum dot 
Endocrine disruptor 
Fluorescence quenching 
Paper sensor 
Molecular recognition 
Notes
Acknowledgments
Recep Üzek thanks to TUBITAK for the given scholarship. We acknowledge support from MINECO, Spain for MAT2017-87202-P and Graphene Flagship Core Project 2 (Ref: 785219). ICN2 is supported by the Severo Ochoa program from Spanish MINECO (Grant No. SEV-2017-0706). This work is also funded by the CERCA Programme / Generalitat de Catalunya.
Compliance with ethical standards
The author(s) declare that they have no competing interests.
Copyright information
© Springer-Verlag GmbH Austria, part of Springer Nature 2019