Competitive fluorometric assay for the food toxin T-2 by using DNA-modified silver nanoclusters, aptamer-modified magnetic beads, and exponential isothermal amplification
Abstract
The authors describe an aptamer based assay for the mycotoxin T-2. The method is making use of exponential isothermal amplification reaction (EXPAR) and fluorescent silver nanoclusters (AgNCs). Free T-2 and cDNA (which is a DNA that is partially complementary to the aptamer) compete for binding to aptamer-modified magnetic beads. The cDNA collected by magnetic separation can be used as a primer to trigger EXPAR to obtain ssDNA. The C-base-rich ssDNA binds and reduces Ag(I) ion to form fluorescent AgNCs. Fluorescence is measured at excitation/emission wavelengths of 480/525 nm. T-2 can be detected by fluorometry with a detection limit as low as 30 fg·mL−1. The method was applied to analyse spiked oat and corn, and the average recoveries ranged from 97.3 to 102.3% and from 95.9 to 107.5%, respectively. The results were in good agreement with data of the commercial ELISA kit. The assay is highly sensitive, has a wide analytical range, good specificity and reliable operation. It provides a promising alternative for the standard method for quantitative detection of T-2.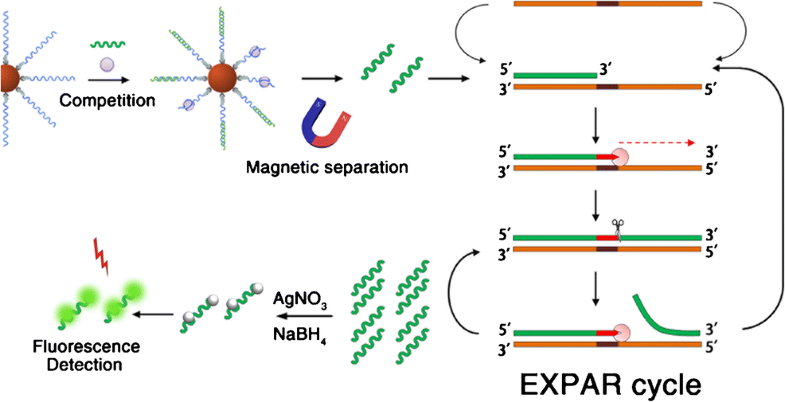 Keywords
Ultrasensitive 
Silver nanoclusters (AgNCs) 
Fluorescence 
Wide analytical range 
Notes
Acknowledgements
This work was supported by the National Key Research and Development Program of China (No. 2017YFC1200903, 2017YFF0108403, 2017YFC1601205), the National Natural Science Foundation of China (No.81703229, 31701711).
Compliance with ethical standards
The author(s) declare no financial and personal relationships with other people or organizations that can inappropriately influence our work. No professional or other personal interest of any nature or kind in any product, service and/or companycould be construed as influencing the position presented in or the review of the manuscript.
Copyright information
© Springer-Verlag GmbH Austria, part of Springer Nature 2019