Determination of Alzheimer biomarker DNA by using an electrode modified with in-situ precipitated molybdophosphate catalyzed by alkaline phosphatase-encapsulated DNA hydrogel and target recycling amplification
Abstract
An electrochemical biosensor is described for highly sensitive determination of tDNA, an Alzheimer's disease (AD)-related biomarker. Electroactive molybdophosphate anions were precipitated in-situ on a glassy carbon electrode (GCE) via catalytic hydrolysis by alkaline phosphatase (ALP). This is followed by recycling amplification of tDNA. Four DNA strands (referred to as S1, S2, S3 and S4) were designed to assemble X-shape DNA (X-DNA) building blocks. These were further extended into four directions under the action of DNA polymerase. The resultant two X-DNA motifs were polymerize. Simultaneously, ALP is encapsulated into a hydrogels network to obtain a porous material of type ALP@DNAhg. The GCE was modified with reduced graphene oxide functionalized with gold nanoparticles (Au@rGO). If ALP@DNAhg are captured via strand displacement, tDNA recycling assembly for signal amplification is initiated. This results in the immobilization of large amounts of ALP. On introduction of pyrophosphate and molybdate (MoO42−), ALP will catalyze the hydrolysis of pyrophosphate to produce phosphate. It will react with molybdate to form redox active phosphomolybdate anions (PMo12O403−). Its amperometrical signal depends on the concentration of tDNA in the 1.0 × 10−2 to 1.0 × 104 pM concentration range, and the detection limit is 3.4 × 10−3 pM.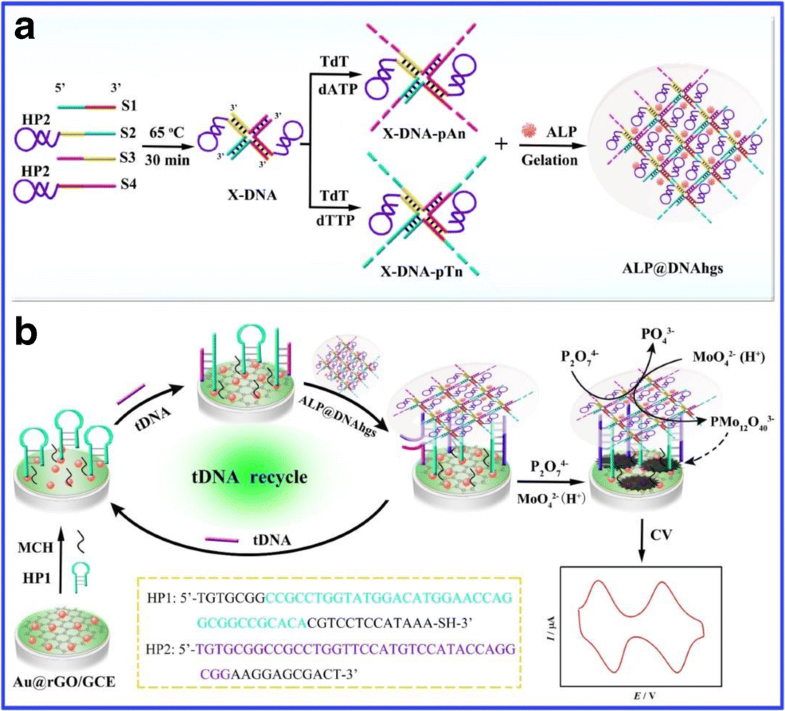 Keywords
Label-free detection 
Electrochemical biosensor 
AuNP-functionalized reduced graphene oxide 
X-shape DNA building block 
Pyrophosphate 
Molybdate 
In-situ precipitation 
Networked DNA structure 
Enzymatic catalysis 
Redox active phosphomolybdate anions 
Notes
Acknowledgements
The financial support by the National Natural Science Foundation (NNSF) of China (21775123) and the Natural Science Foundation Project of Chongqing (cstc2018jcyjAX0214) to this work was deeply appreciated.
Compliance with ethical standards
The author(s) declare that they have no competing interests.
Copyright information
© Springer-Verlag GmbH Austria, part of Springer Nature 2019