Electrochemiluminescent determination of the activity of uracil-DNA glycosylase: Combining nicking enzyme assisted signal amplification and catalyzed hairpin assembly
Abstract
An electrochemiluminescence (ECL) based method is described for the determination of the activity of the enzyme uracil-DNA glycosylase (UDG). It is based on the use of nicking enzyme-assisted signal amplification and catalytic hairpin assembly. UDG can recognize and hydrolyze the uracil bases from the stem of hairpin DNA1 (HP1). This causes the opening of HP1 to form a straight strand DNA. The straight HP1 can hybridize with hairpin DNA2 (HP2) to form a DNA duplex. In the presence of nicking enzyme, it can recognize and cut the specific sequences in the HP2 of the DNA duplex, and a subsequent release of HP1. It hybridizes with other HP2 to trigger the continuous cleavage of HP2, concomitantly generating abundant intermediate sequences (S1). The hairpin DNA3 (HP3) is immobilized on a gold electrode via Au-S chemistry. In the presence of S1, HP3 hybridizes with S1 and its hairpin structure is opened. This hybridization causes displacement from hairpin DNA4 (HP4), and S1 is released to initiate the next hybridization process. Thus, a massive number of HP3-HP4 duplexes is generated after the cyclic process. Subsequently, the cDNA modified on bio-bar-coded AuNP-CdSe quantum dots are immobilized on the electrode by hybridization with the redundant part of the opened HP4. This results in a significant amplification of the ECL signal. This biosensor is sensitive and selective for UDG. The detection limit is 6 mU·mL−1 and the dynamic range extends from 0.02 to 22 U·mL−1. The method was applied to real samples and gained good performance, thereby providing an ideal way for DNA repair enzyme-related biomedical research and diagnosis.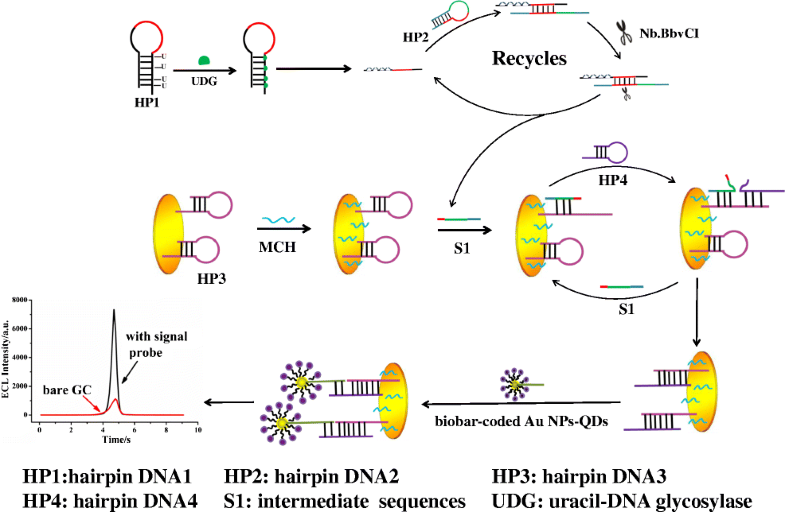 Keywords
Electrochemiluminescence 
Biosensor 
Catalyzed hairpin assembly 
Uracil-DNA glycosylase 
Signal amplification 
Notes
Acknowledgements
We are grateful to Natural Science Research Key Project of Education Department of Anhui Province (No. KJ2018A0453, KJ2017A434, KJ2017A435 and KJ2018A0446) and Academic Technical Leader of Suzhou University (No. 2016xjxs03 and 2016msgzs071) for funding this work. The authors also thank the Key Discipline of Material Science and Engineering of Suzhou University (No. 2017XJZDXK3) and Innovative Research Team of Anhui Provincial Education Department (No. 2016SCXPTTD) for supporting this work.
Compliance with ethical standards
The author(s) declare that they have no competing interests.
Copyright information
© Springer-Verlag GmbH Austria, part of Springer Nature 2019