A nanocomposite consisting of gold nanobipyramids and multiwalled carbon nanotubes for amperometric nonenzymatic sensing of glucose and hydrogen peroxide
Abstract
Gold nanobipyramids were synthesized by a seed-mediated growth method and then supported by multi-walled carbon nanotubes (denoted as AuNBP/MWCNTs). The electrocatalytic activity of the AuNBP/MWCNTs on a glassy carbon electrode (GCE) towards direct glucose oxidation and hydrogen peroxide reduction was superior to that of AuNBPs and MWCNTs. The modified GCE, operated at a typical working voltage of +0.15 V (vs. SCE) and in 0.1 M NaOH solution, exhibits a linear response in the 10 μM to 36.7 mM glucose concentration range with a 3.0 μM detection limit (at S/N = 3) and a sensitivity of 101.2 μA mM−1 cm−2. It also demonstrates good sensitivity towards hydrogen peroxide in at pH 7 solution at a working potential of −0.50 V (vs. SCE), with a linear response range from 5.0 μM to 47.3 mM, a sensitivity of 170.6 μA mM−1 cm−2 and a detection limit of 1.5 μM.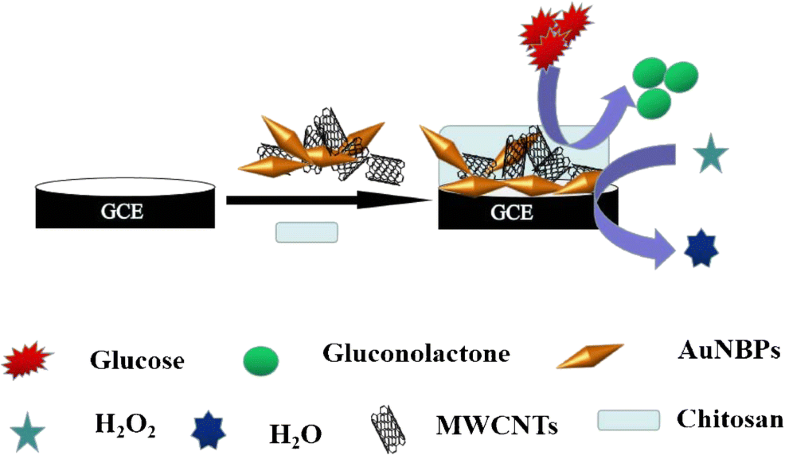 Keywords
Nanomaterials 
Electrocatalyst 
Electrochemical sensor 
Non-enzymatic sensor 
Cyclic voltammetry 
Chronoamperometry 
Real sample analysis 
Notes
Acknowledgements
This work was partially supported by the Natural Science Foundation of China (81573110, 31270958), the Chinese National 863 plan (2012AA02A407), the Natural Science Foundation of Zhejiang Province (LY14H190004, LY13H100003, LY15H160066), the Key Science and Technology Innovation Team of Zhejiang Province, Wenzhou Municipal Research Program (Y20160009, Y20160074), and Natural Science Foundation of Zhejiang Province (LQ17B030003).
Compliance with ethical standards
The author(s) declare that they have no competing interests.
Copyright information
© Springer-Verlag GmbH Austria, part of Springer Nature 2019