A DNA functionalized porphyrinic metal-organic framework as a peroxidase mimicking catalyst for amperometric determination of the activity of T4 polynucleotide kinase
Abstract
An electrochemical method is described for the sensitive detection of the activity of the enzyme T4 polynucleotide kinase (PNK) by using a DNA functionalized porphyrinic metal-organic framework (L/(Fe-P)n-MOF). In the presence of PNK, the hairpin oligonucleotide (HP1) becomes phosphorylated, and the trigger is released by lambda exonuclease (λ exo). The trigger DNA hybridizes with hairpin probe (immobilized on the gold electrode) to form a nicking endonuclease cleavage site. Thus, a single-strand capture probe is employed to hybridize with L/(Fe-P)n-MOF. The (Fe-P)n-MOF is a peroxidase mimicking material with high catalytic efficiency. By using this amplification strategy, an electrochemical signal is procured that allows for the determination of T4 PNK in the 1.0 mU·mL−1 to 1.0 U·mL−1 with a detection limit of 0.62 mU·mL−1. The method is selective and can be used to screen for enzyme inhibitors. Conceivably, the (Fe-P)n-MOF can also be used to detect other analytes via its peroxidase-mimicking activity.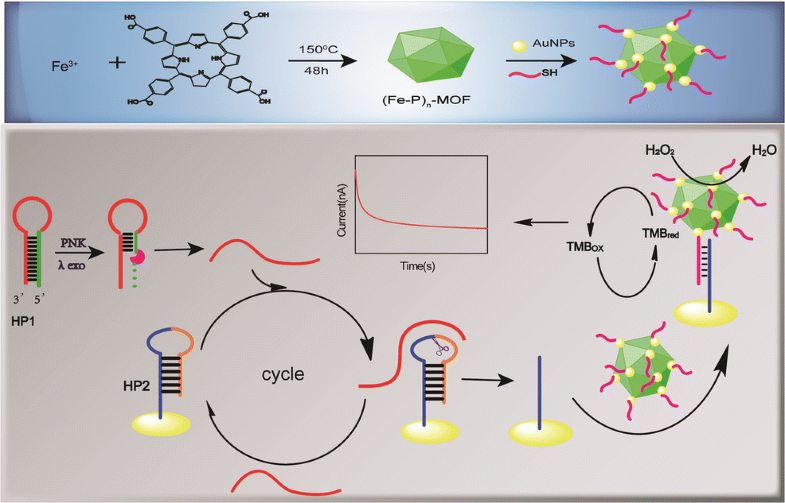 Keywords
MOF 
Peroxidase mimetic 
Electrochemical assay 
DNA enzyme 
Lambda exonuclease 
Tetramethylbenzidine 
H2O2 
Gold nanoparticles 
Notes
Acknowledgments
This work was supported by the National Natural Science Foundation of China (21505082, 21705086, 21775080), a project of Shandong Province Higher Educational Science and Technology Program (Grant J16LC10), the Key Research and Development project of Shandong Province (No. 2017GSF221004, No. 2018GGX102001).
Compliance with ethical standards
The author(s) declare that they have no competing interests.
Copyright information
© Springer-Verlag GmbH Austria, part of Springer Nature 2019