Uniform arrangement of gold nanoparticles on magnetic core particles with a metal-organic framework shell as a substrate for sensitive and reproducible SERS based assays: Application to the quantitation of Malachite Green and thiram
Abstract
Magnetite (Fe3O4) spheres acting as a core were evenly decorated with gold nanoparticles (AuNPs) and coated with a shell of a metal organic framework (MOF) of type MIL-100(Fe). The resulting hybrid nanomaterial of type Fe3O4-Au@MIL-100(Fe) hybrid is shown to be a viable new SERS substrate. The integration of magnetic core, build-in plasmonic gold nanoparticles and a MOF shell endows the Fe3O4-Au@MIL-100(Fe) with highly efficient magnetic separation and enrichment ability, abundant interparticle hotspots, and significant chemical enhancement effect. This leads to a large enhancement, and greatly improved reproducibility of the SERS signals as shown for Malachite Green (MG) and the fungicide thiram. MG in solution can be quantified with a 50-fold lower detection limit (0.14 nM for peak at 1398 cm−1) and largely improved reproducibility (RSD = 9%, 1398 cm−1) when compared to the use of (a) AuNPs anchored on MIL-100(Fe) (RSD = 27%, 1186 cm−1), or (b) AuNPs embedded in MIL-100(Fe) (RSD = 36%, 1398 cm−1). The method was applied to the quantitation of MG and thiram in spiked water samples. The lower limits of detection are 4.4 nM for MG (1398 cm−1) and 15 nM for thiram (1380 cm−1), respectively, and signals' RSDs are 13% (1398 cm−1) and 5% (1380 cm−1) for MG and thiram, respectively. The substrate is recyclable.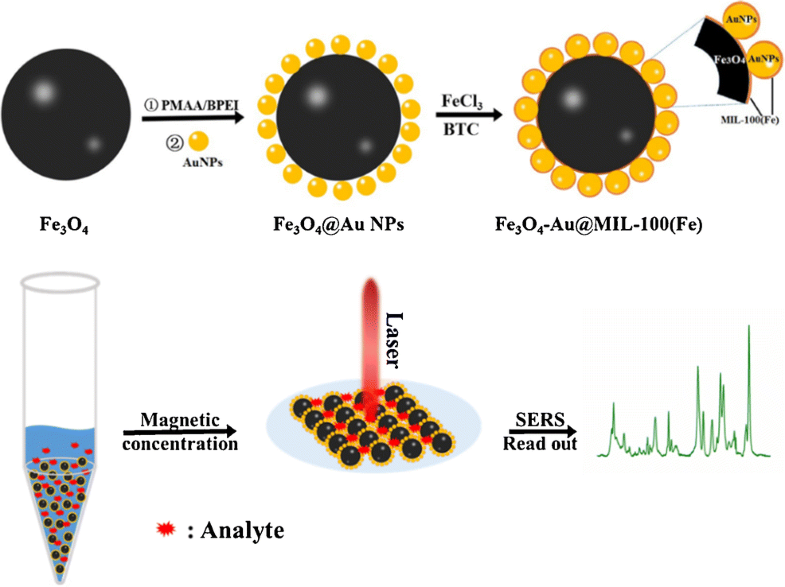 Keywords
Metal organic framework (MOF) 
Surface enhanced Raman scattering (SERS) 
Enhancement substrate 
Plasmonic nanoparticles 
Magnetic material 
Multifunctional hybrid 
Notes
Acknowledgements
This work is financially supported by the National Natural Science Foundation of China (21705063, 21665011), Natural Science Foundation of Jiangxi Province (20161BAB203088).
Compliance with ethical standards
The author(s) declare that they have no competing interests.
Copyright information
© Springer-Verlag GmbH Austria, part of Springer Nature 2019