A field effect transistor modified with reduced graphene oxide for immunodetection of Ebola virus
Abstract
The authors describe a field effect transistor (FET) based immunoassay for the detection of inactivated ebola virus (EBOV). An equine antibody against the EBOV glycoprotein was immobilized on the surface of the FET that was previously modified with reduced graphene oxide (RGO). The antibody against EBOV was immobilized on the modified FET, and the response to EBOV was measured as a function of the shift of Dirac voltage. The method can detect the EBOV over the concentration range from 2.4 × 10−12 g·mL−1 to 1.2 × 10−7 g·mL−1 and with a limit of detection as low as 2.4 pg·mL−1. The assay has satisfactory specificity and was applied to the quantitation of inactivated EBOV in spiked serum.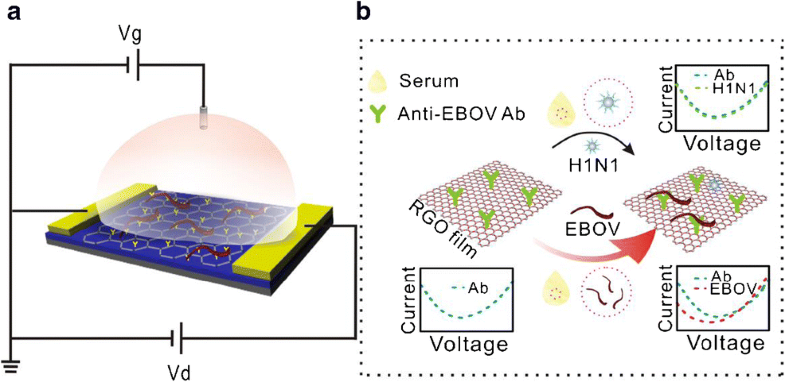 Keywords
Ebola virus 
Field effect transistor 
Biosensor 
Sensitive detection 
Reduced graphene oxide 
Immunoreaction 
Notes
Acknowledgements
This work was supported by the National Natural Science Foundation of China (Nos. 21475034, 21675041, and 61390504).
Compliance with ethical standards
The author(s) declare that they have no competing interests. All procedures performed in studies involving human participants were in accordance with the ethical standards of the institutional and/or national research committee and with the 1964 Helsinki declaration and its later amendments or comparable ethical standards.
Copyright information
© Springer-Verlag GmbH Austria, part of Springer Nature 2019