Graphene-derived nanomaterials as recognition elements for electrochemical determination of heavy metal ions: a review
Abstract
This review (with 155 refs.) summarizes the progress made in the past few years in the field of electrochemical sensors based on graphene-derived materials for the determination of heavy metal ions. Following an introduction of this field and a discussion of the various kinds of modified graphenes including graphene oxide and reduced graphene oxide, the review covers graphene based electrodes modified (or doped) with (a) heteroatoms, (b) metal nanoparticles, (c) metal oxides, (d) small organic molecules, (e) polymers, and (f) ternary nanocomposites. Tables are provided that afford an overview of representative methods and materials for fabricating electrochemical sensors. Furthermore, sensing mechanisms are discussed. A concluding section presents new perspectives, opportunities and current challenges.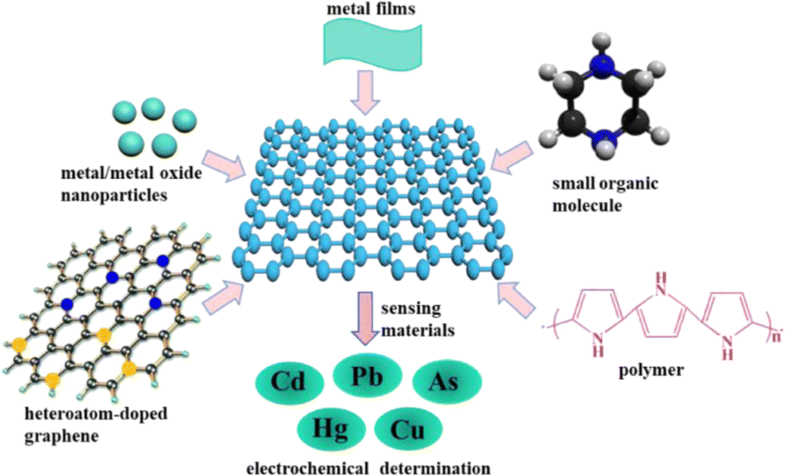 Keywords
Electrochemical sensor 
Metal 
Metal oxide 
Polymer 
Cadmium 
Lead 
Mercury 
Graphene oxide 
Reduced graphene oxide 
Notes
Acknowledgments
We are grateful to the National Natural Science Foundation of China (21665010, 51762020 and 31741103), the Outstanding Youth Fund of Jiangxi Province (20162BCB23027), the Natural Science Foundation of Jiangxi Province (20171BAB203015, 20171ACB20026 and 20181BAB206015), the Jiangxi Provincial Department of Education (GJJ170662), and the One Hundred Person Yuan Hang Project (2017) for their financial support of this work. Yinxiu Zuo is greatly acknowledged Yunyong Hu for his support and encouragement during this writing process.
Compliance with ethical standards
The author(s) declare that they have no competing interests.
Copyright information
© Springer-Verlag GmbH Austria, part of Springer Nature 2019