A selective chemiresistive sensor for the cancer-related volatile organic compound hexanal by using molecularly imprinted polymers and multiwalled carbon nanotubes
Abstract
A chemiresistive sensor is described for the lung cancer biomarker hexanal. A composite consisting of molecularly imprinted polymer nanoparticles and multiwalled carbon nanotubes was used in the sensor that is typically operated at a voltage of 4 V and is capable of selectively sensing gaseous hexanal at room temperature. It works in the 10 to 200 ppm concentration range and has a 10 ppm detection limit (at S/N = 3). The sensor signal recovers to a value close to its starting value without the need for heating even after exposure to relatively high levels of hexanal.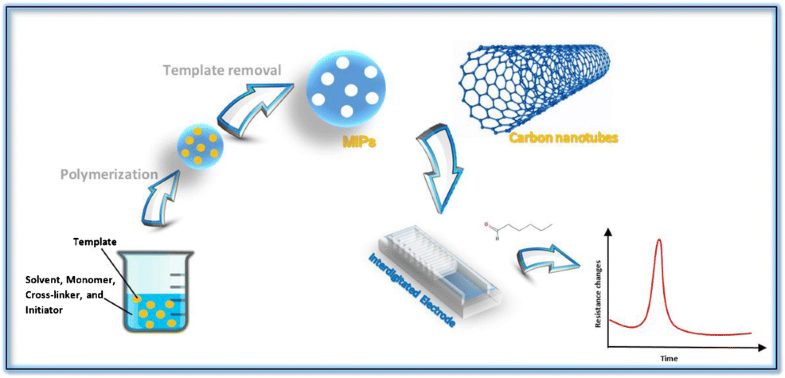 Keywords
Chemiresistor 
Gas sensor 
Nanocomposite 
Lung cancer 
MWCNTs 
Notes
Acknowledgements
Authors express their gratitude to Geoffrey Barrow for language revision and his valuable comments. We would like to thank Dr. Moslem Shojaee for sharing his experience with the experimental setup.
Compliance with ethical standards
This study was funded by research council of Tarbiat Modares University.
Copyright information
© Springer-Verlag GmbH Austria, part of Springer Nature 2019