An electrochemical sarcosine sensor based on biomimetic recognition
Abstract
A nonenzymatic electrochemical sensor is described for the prostate cancer biomarker sarcosine (Sar). Riboflavin was employed to mimic the active center of the enzyme sarcosine oxidase for constructing the biomimetic sensor. The use of riboflavon (Rf) avoids the disadvantages of an enzymatic sensor, such as high cost and poor stability. A glassy carbon electrode (GCE) was modified with a graphene-chitosan (GR) composite and further modified with gold-platinum bimetallic nanoparticles in a polypyrrole (PPy) matrix in order to enhance the catalytic activity of the enzyme mimic. Finally, Rf was electrodeposited on the surface of the AuPt-PPy/GR-modified GCE. Under optimized conditions, the GCE provided high sensitivity and selectivity for Sar at around 0.61 V. Response covers the 2.5–600 μM concentration range, and the detection limit is 0.68 μM. The method was successfully applied to the determination of Sar in spiked urine with 98.0%–103.2% recovery.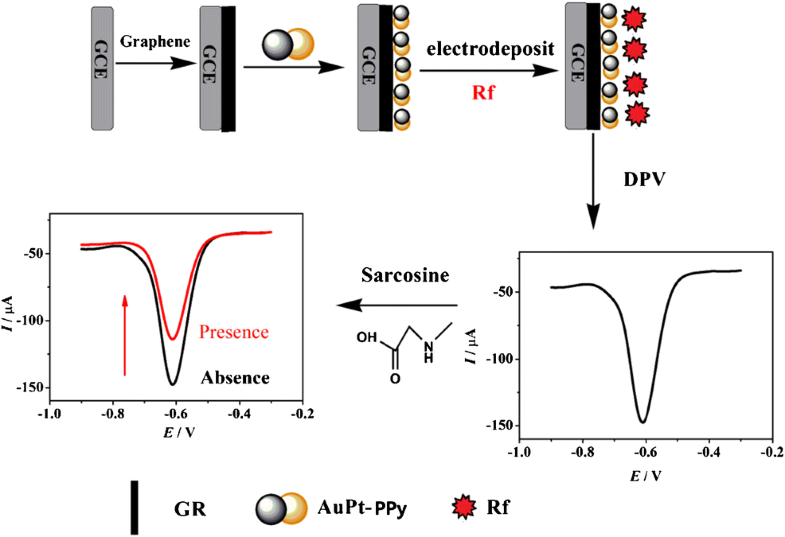 Keywords
Non-enzymatic sensor 
Riboflavin 
Graphene 
Bimetallic nanocomposite 
Prostate cancer 
Notes
Acknowledgments
This work was supported by the National Natural Science Foundation of China (Grant No. 81573678) and Natural Science Foundation of Guangdong Province, China (Grant No. 2015A030313584).
Compliance with ethical standards
 We declare that we have no competing interests. And informed consent was obtained from all individual participants included in the study.
Copyright information
© Springer-Verlag GmbH Austria, part of Springer Nature 2019