Fluorometric determination of microRNA-122 by using ExoIII-aided recycling amplification and polythymine induced formation of copper nanoparticles
Abstract
The authors describe a method for the determination of microRNA-122 by using terminal deoxynucleotidyl transferase (TdT). It is based on the use of polythymine and exonuclease III-aided cycling amplification. A 3′-phosphorylated hairpin probe 1 (H1) and a hairpin probe 2 (H2) were designed. In the presence of the microRNA, hybridization and enzymatic cleavage will occur and produce lots of 3′-hydroxylated ssDNA which can be tailed by TdT and converted into long polythymine (polyT) sequences. These can be used to synthesize copper nanoparticles (CuNPs) with fluorescence excitation/emission maxima at 350 nm/630 nm. This method shows good selectivity and high sensitivity with a linear response in the 1.00 × 102 fM and 1.00 × 106 fM microRNA concentration range and a 44 fM limit of detection. It was successfully applied to determination of microRNA in spiked serum samples.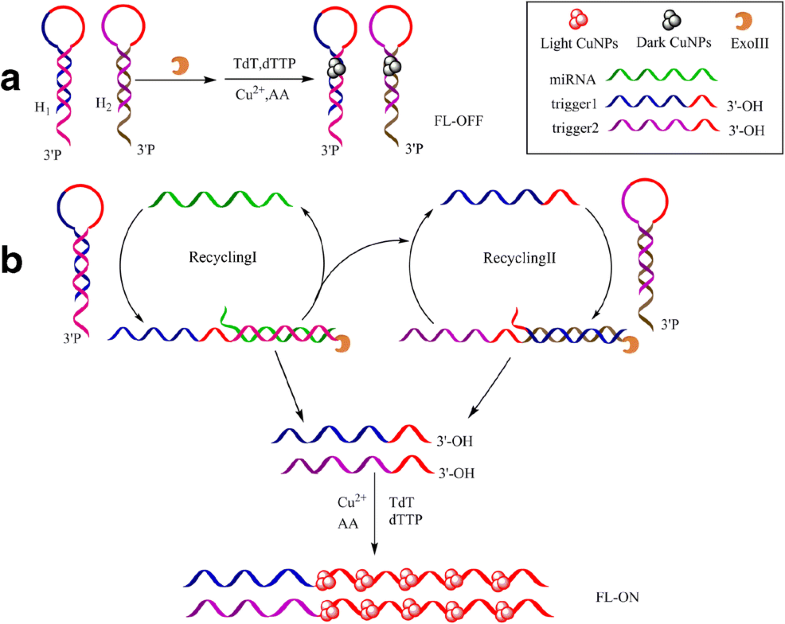 Keywords
MicroRNA 
PolyT-CuNPs 
Polymerization 
Target recycling 
Notes
Compliance with ethical standards
The authors got the permission for using serum sample of human volunteers from Guilin's Fifth People's Hospital (China) according to institutional guidelines. All animal procedures and all experiments were performed in accordance with the Guidelines for Care and Use of Laboratory Animals of Guangxi Normal University (Guilin, China) and approved by the Animal Ethics Committee of China.
Copyright information
© Springer-Verlag GmbH Austria, part of Springer Nature 2019