Colorimetric determination of ascorbic acid and the activity of alkaline phosphatase based on the inhibition of the peroxidase-like activity of citric acid-capped Prussian Blue nanocubes
Abstract
Colorimetric methods are described for the determination of ascorbic acid (AA) and alkaline phosphatase (ALP). Both assays are based on the inhibition of the peroxidase (POx)-like activity of Prussian Blue nanocubes (PB NCs) capped with citric acid. They catalyze the oxidation of 3,3,5,5-tetramethylbenzidine (TMB) by H2O2 to produce a blue color with an absorption maximum at 652 nm. On addition of AA, the PB NCs are reduced to Prussian White (PW) which does not act as a POx mimic. This results in a decreased rate of the formation of the blue coloration whose intensity decreases with increasing concentration of AA. The assay allows AA to be quantified with a 35 nM detection limit (at 3σ/m). The hydrolysis of AA phosphate by ALP leads to the formation of AA which can be quantified by the above method. Based on this, the activity of ALP can be determined by measurement of the intensity of the blue coloration thus formed. The method can be used to determine the activity of ALP with a detection limit as low as 0.23 U·L−1.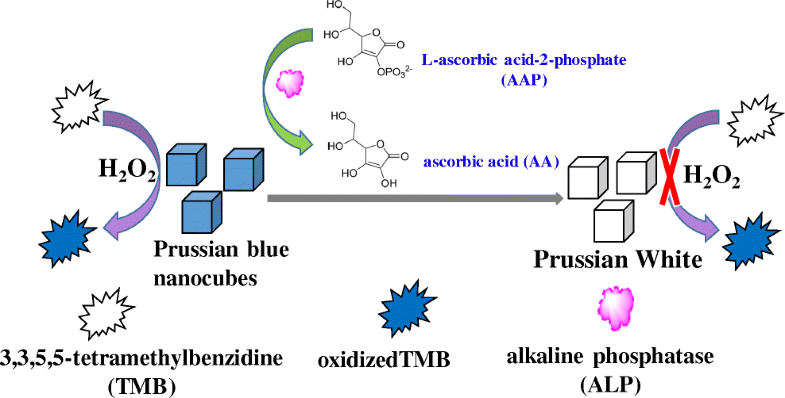 Keywords
Enzyme mimic 
Nanocubes 
Prussian White 
Peroxidase mimetic 
3,3,5,5-Tetramethylbenzidine 
Inhibition 
Colorimetric assay 
Notes
Acknowledgments
This work was supported by the National Natural Science Foundation of China (21645008, 21305042, 21375037), Scientific Research Fund of Hunan Provincial Education Department (14B116), Science and Technology Department (14JJ4030), the construct program of the key discipline in Hunan province and the Aid Program for Science and Technology Innovative Research Team in Higher Educational Institutions of Hunan Province.
Compliance with ethical standards
The author(s) declare that they have no competing interests.
Copyright information
© Springer-Verlag GmbH Austria, part of Springer Nature 2019