Yellow-emissive carbon dots with a large Stokes shift are viable fluorescent probes for detection and cellular imaging of silver ions and glutathione
Abstract
Yellow-emissive carbon dots (Y-CDs) were prepared by a solvothermal method using anhydrous citric acid and 2,3-phenazinediamine as the starting materials. The Y-CDs display a 24% fluorescence quantum yield, a 188-nm Stokes' shift and excellent stability. They are shown here to be excellent fluorescent probes for the determination of Ag(I) ion and glutathione (GSH). If exposed to Ag(I) ions, they are bound by the carboxy groups of the Y-CDs, and this causes quenching of fluorescence (with excitation/emission maxima at 380/568 nm) via a static quenching mechanism. This effect was used to design a fluorometric assay for Ag(I). The quenched fluorescence of the Y-CDs can be restored by adding GSH due to the high affinity of GSH for Ag(I). The calibration plot for Ag(I) is linear in the 1–4 μM Ag(I) concentration range, and the limit of detection is 31 nM. The respective values for GSH are 5–32 μM, and 76 nM, respectively. The method was applied to the detection of Ag(I) in spiked environmental water samples and gave recoveries ranging from 93 to 107%. It was also applied to the determination of GSH in tomatoes and purple grapes and gave satisfactory recoveries. The Y-CDs display low cytotoxicity and were successfully used to image Ag(I) and GSH in H1299 cells.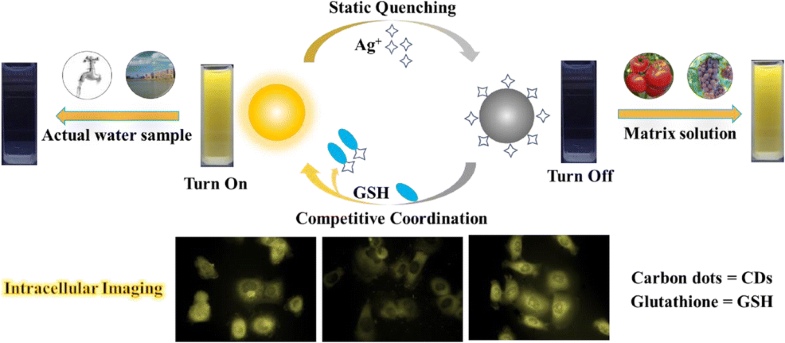 Keywords
Fluorescence detection 
Stern-Volmer plot 
Fluorescence imaging 
Fluorescence microscopy 
Applications 
Notes
Acknowledgements
The work described in this manuscript was supported by the National Natural Science Foundation of China (51678409, 51638011 and 51578375), Tianjin Research Program of Application Foundation and Advanced Technology (15ZCZDSF00880), State Key Laboratory of Separation Membranes and Membrane Processes (Z1-201507), and the Program for Innovative Research Team in University of Tianjin (TD13-5042).
Compliance with ethical standards
The author(s) declare that they have no competing interests.
Copyright information
© Springer-Verlag GmbH Austria, part of Springer Nature 2019