A fluorescent probe composed of quantum dot labeled aptamer and graphene oxide for the determination of the lipopolysaccharide endotoxin
Abstract
Endotoxins are complex lipopolysaccharides (LPS) and key components of the outer cell membrane of Gram-negative bacteria. The authors report on a fluorescent aptamer-based probe for the determination of LPS of Gram-negative bacteria. An aptamer against LPS was fluorescently labeled with CdSe/ZnS quantum dots. Its emission is quenched on addition of graphene oxide (GO). On addition of LPS, the aptamer binds LPS and GO is released. This results in the recovery of fluorescence, typically measured at excitation/emission wavelengths of 495/543 nm. The probe responds to LPS in the 10–500 ng·mL−1 concentration range, and the detection limit is 8.7 ng·mL−1. It can be used for selective detection of LPS from different Gram-negative bacteria, in the presence of biological interferents.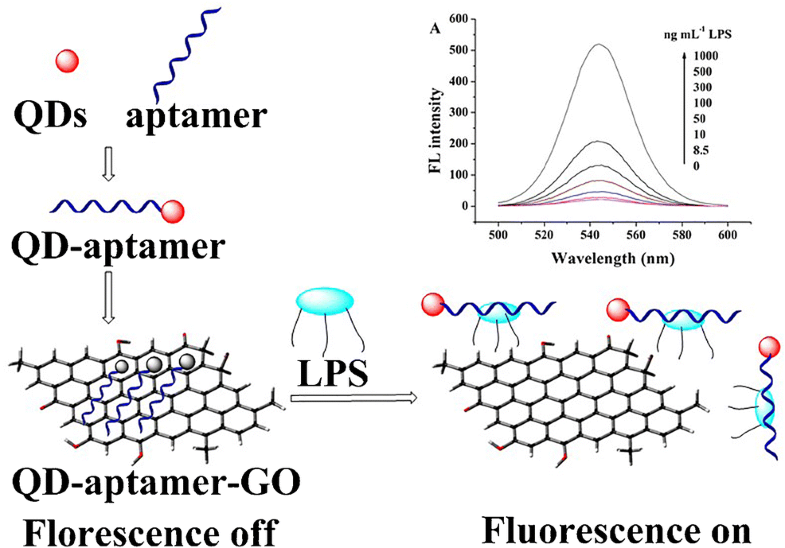 Keywords
Biosensor 
Gram-negative bacteria 
DNA 
Fluorescence quenching 
Resonance energy transfer 
CdSe/ZnS quantum dots 
Fluorescence turn-on 
Receptor 
Notes
Acknowledgements
This work was financially supported by National Natural Science Foundation of China (No.21375156), National High Technology Research and Development Program of China (Ministry of Science and Technology 863 Plan)(2015AA021104), Frontier Research Key Projects of Chongqing Science and Technology Committee (cstc2015jcyjBX0010), and Fundamental Research Funds for the Central Universities (No. 10611CDJXZ238826).
Compliance with ethical standards
The author(s) declare that they have no competing interests.
Copyright information
© Springer-Verlag GmbH Austria, part of Springer Nature 2019