A nanocomposite consisting of graphene oxide, zeolite imidazolate framework 8, and a molecularly imprinted polymer for (multiple) fiber solid phase microextraction of sterol and steroid hormones prior to their quantitation by HPLC
Abstract
A method is described for multiple monolithic fiber solid-phase microextraction of five sterol and steroid hormones from complex food samples. A composite was prepared from graphene oxide, a metal-organic framework (ZIF-8) and a molecularly imprinted polymers was deposited on a single thin fiber. Four thin fibers were combined to obtain a fiber bundle. The nanocomposite was characterized by Fourier transform infrared spectroscopy, powder X-ray diffraction, scanning electron microscopy (SEM) and energy-dispersive X-ray spectroscopy. The parameters affecting the extraction were optimized by Box-Behnken design. Following elution with methanol, the analytes progesterone, testosterone, β-sitosterol, cholesterol and campesterol were quantified via HPLC. Response is linear in the 0.01–1000 μg L−1 concentration range, and limits of detection range from 3 to 5 ng L−1. The method was successfully applied to the determination of the five analytes in spiked samples of white meat, egg yolks and vegetables. The relative mean recoveries ranged from 95.0% to 101.0%.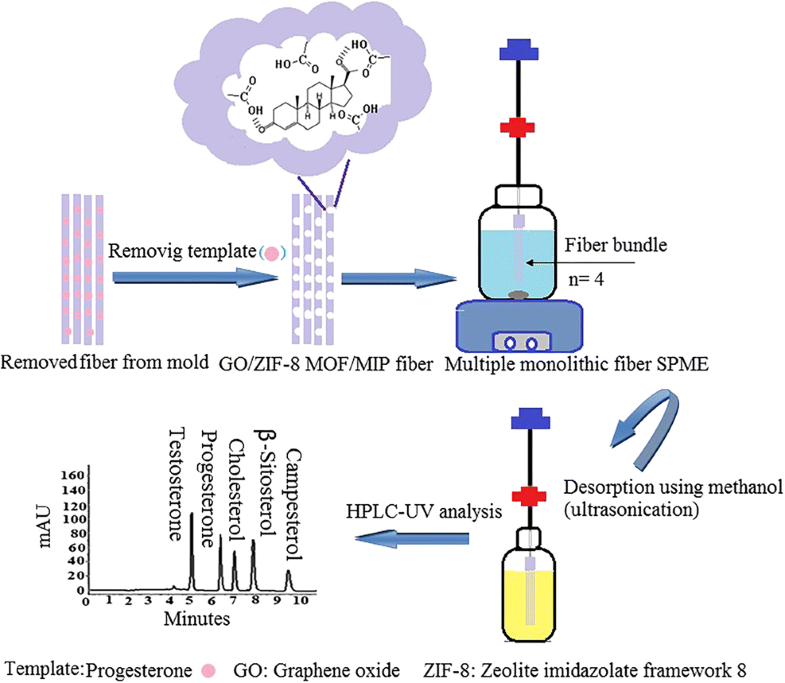 Keywords
Sterol 
Steroid hormones 
Graphene oxide 
Metal–organic frameworks 
Molecularly imprinted polymer 
Multiple monolithic fiber 
Microextraction 
HPLC 
Notes
Acknowledgements
The Authors greatly appreciate the financial support of this work by Shahid Chamran University of Ahvaz Research Council.
Compliance with ethical standards
The authors declare that they have no competing interests.
Copyright information
© Springer-Verlag GmbH Austria, part of Springer Nature 2019