Graphene oxide with in-situ grown Prussian Blue as an electrochemical probe for microRNA-122
Abstract
An electrochemical biosensor for microRNA was constructed on the basis of direct growth of electroactive Prussian Blue (PB) on graphene oxide (GO). A mercapto-modified probe DNA that is complementary to the hepatocellular carcinoma biomarker microRNA-122 was firstly anchored on a gold electrode (AuE). Then, GO (with its large surface and multiple active sites) was adsorbed on probe DNA through π-interaction. Subsequently, the PB nanoparticles were directly grown on GO via alternative dipping the electrode in solutions of FeCl3 and hexacyanoferrate(III). Upon incubation of the resulting electrode with a solution of microRNA-122, the probe DNA on the electrode interacts with microRNA-122 to form a rigid duplex. This results in the release of electroactive PB/GO from the sensing interface and a decrease in current, typically measured at 0.18 V (vs. Ag/AgCl (3 M KCl)). The sensor covers the 10 fM to 10 nM microRNA-122 concentration range and has a 1.5 fM detection limit. The method was successfully applied to the determination of microRNA-122 in real biological samples.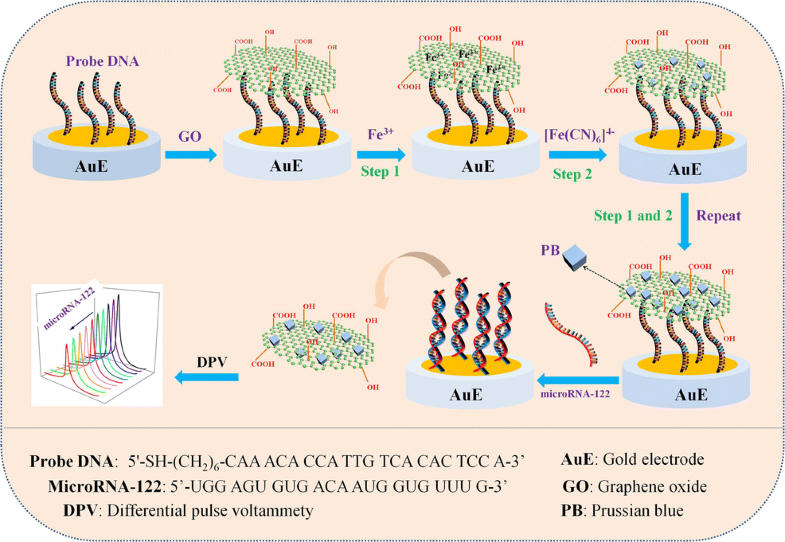 Keywords
UV-vis spectra 
Scanning electron microscopy 
Atomic force microscopy 
π-stacking 
Base-pairing principle 
Nanosize effect 
Liver injury biomarker 
Notes
Acknowledgements
This work was financially supported by the National Natural Science Foundation of China (Nos. 81873978, 81601842, 21802064), the Sixth Talent Peaks Project of Jiangsu Province (2018-WSW-068), the 64th grant of Chinese Post-doctoral Science Foundation (2018 M642298), and Foundation of Key Laboratory of Sensor Analysis of Tumor Marker from Ministry of Education, Qingdao University of Science and Technology.
Compliance with ethical standards
The author(s) declare that they have no competing interests.
Copyright information
© Springer-Verlag GmbH Austria, part of Springer Nature 2019