A photoelectrochemical sandwich immunoassay for protein S100β, a biomarker for Alzheimer's disease, using an ITO electrode modified with a reduced graphene oxide-gold conjugate and CdS-labeled secondary antibody
Abstract
A sandwich-type photoelectrochemical immunoassay is described for the protein S100ß which is an Alzheimer's disease biomarker found in the astrocytes of the brain. Antibody against S100ß (anti-S100ß) was labeled with CdS quantum dots and then acted as a secondary antibody. The labeled antibody was characterized by FTIR, ultraviolet-visible and fluorescence spectroscopy. An indium-tin oxide (ITO) electrode was modified with a nanocomposite prepared from reduced graphene oxide and gold nanoparticles. Then, a sol-gel film containing isocyanate functional groups (-N=C=O) was cast on the surface of the electrode. The NCO group reacts with amino groups of the labeled antibody to covalently bind them to the surface. The S100β was bound by the primary immobilized antibody on the rGO-Au/ITO electrode and then sandwiched with the labeled secondary antibody. Cyclic voltammetry and electrochemical impedance spectroscopy were applied to confirm the stepwise changes in the electrochemical properties of the electrode surface. The photoelectrochemical immunoassay, typically operated at a potential of +0.2 V (vs. Ag|AgClsat) gives a signal that is related to the logarithm of the S100β concentration in the range from 0.25 to 10 ng·mL−1 with a lower detection limit of 0.15 pg·mL−1. The method was successfully applied to the determination of S100β in human serum samples.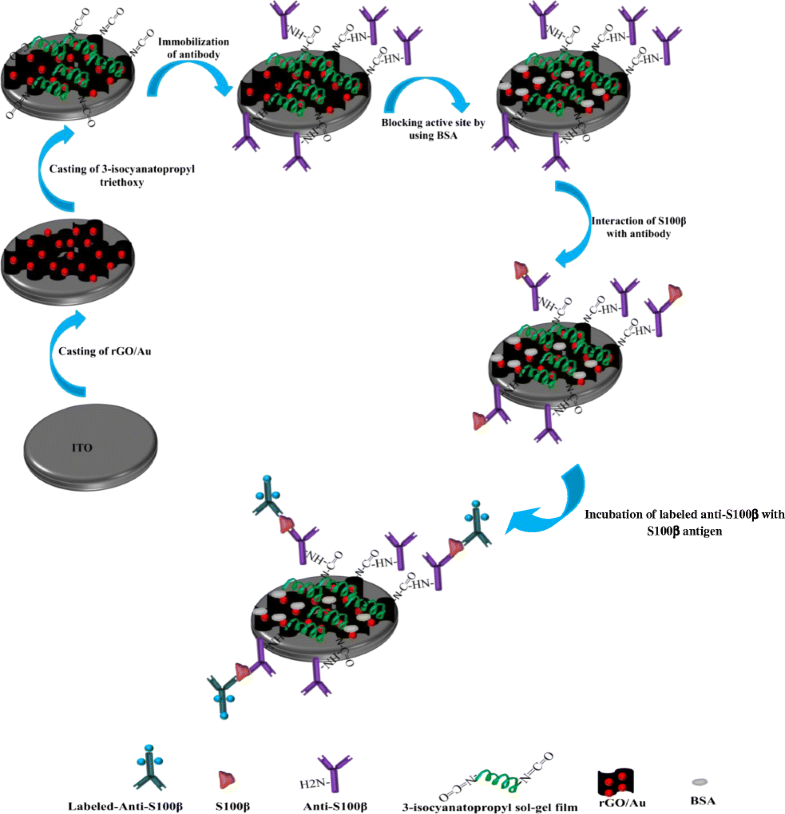 Keywords
Alzheimer' disease 
S100β biomarker 
Photoelectrochemical immunoassay 
Reduced graphene oxide-gold conjugate 
CdS-labeled secondary antibody 
Notes
Acknowledgments
This study was supported by the Spanish Ministry of Economy and Competition under grants number TEC2015–71324-R (MINECO/FEDER), the Catalan Government AGAUR 2017-SGR-1527, the ICREA under the 2014-ICREA Academia Award and the Martí-Franquès II postdoctoral programme under grant number 2017PMF-POST2-7. The research leading to these results has received funding from" la Caixa bank" Foundation.
Compliance with ethical standards
The author(s) declare that they have no competing interests.
Copyright information
© Springer-Verlag GmbH Austria, part of Springer Nature 2019