Voltammetric immunoassay of human IgG based on the release of cadmium(II) from CdS nanocrystals deposited on mesoporous silica nanospheres
Abstract
The authors describe a nanocomposite that was obtained by in-situ deposition of CdS nanocrystals on mesoporous silica nanospheres (MSNs), and its use in an electrochemical immunoassay of human immunoglobulin G (HIgG). The MCN/CdS nanocomposite was covalently modified with the antibodies against HIgG and then employed in a voltammetric immunoassay at antibody-functionalized magnetic beads. Through sandwich immunoreaction, the MCN/CdS nanoprobes are quantitatively captured onto the magnetic beads where numerous Cd(II) ions are released in an acidic solution. The Cd(II) can be detected by anodic stripping voltammetry at a typical working potential of −0.78 V (vs. Ag/AgCl). In combination with the high loading of CdS on MSNs, the use of the stripping voltammetric analysis renders the method high sensitivity. A wide linear range varying from 0.01 to 100 ng mL−1 is obtained for HIgG detection with a lower detection limit at 2.9 pg mL−1. In addition, the preparation of the nanoprobe is inexpensive. The magnetic bead-based assay does not require complex manipulations. Therefore, this method is deemed to possess a wide scope in that it may be applied to other immunoassays.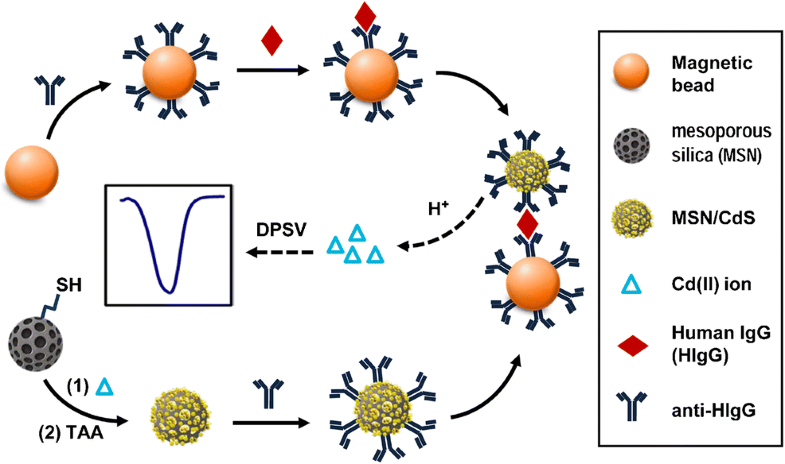 Keywords
Immunosensor 
Nanoprobe 
Signal amplification 
Anodic stripping voltammetry 
Magnetic beads 
Notes
Acknowledgements
This work was financially supported by the National Natural Science Foundation of China (21475033), Science and Technology Foundation for Excellent Creative Research Group of Hubei Provincial Department of Education (T201810), and Open Fund of Hubei Key Laboratory of Pollutant Analysis and Reuse Technology (PA20170207).
Compliance with ethical standards
The authors declare that they have no competing interests.
Copyright information
© Springer-Verlag GmbH Austria, part of Springer Nature 2018