Water-dispersed fluorescent silicon nanodots as probes for fluorometric determination of picric acid via energy transfer
Abstract
Water-dispersed fluorescent silicon nanodots (SiNDs) were synthesized by a one-pot hydrothermal method starting from tetraethyl orthosilicate (TEOS) as silicon source and trisodium citrate as reducing reagent. The method is simple and convenient. The SiNDs, with excitation/emission peaks at 347/440 nm and with fluorescence quantum yield of 18% are shown to be viable fluorescent probes for picric acid (PA). The SiNDs strongly bind PA, and their blue fluorescence is quenched. The distance between the donor and acceptor (R0 value) is calculated from fluorescence data to be 2.1 nm. A fluorometric method was worked out that has a linear response in the 8 nM to 50 μM PA concentration range and a 0.92 nM limit of detection. The method has a fast response (2 min) and is well selective over other nitroaromatic compounds and metal ions. The average recoveries from spiked lake water samples ranged between 98.4 and 100.8%.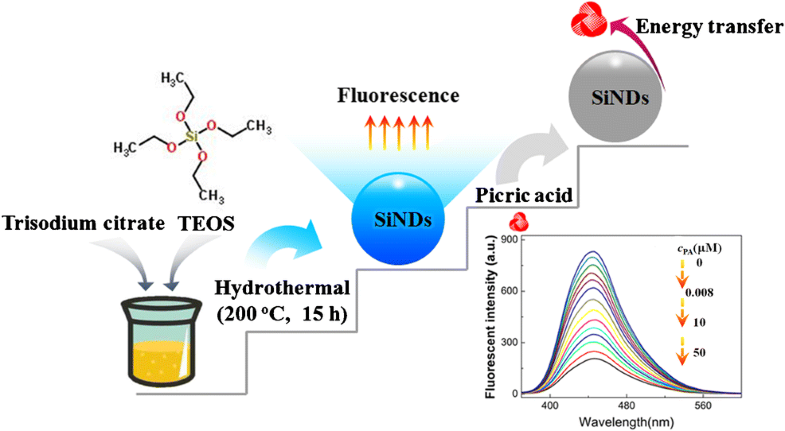 Keywords
Picric acid (PA) 
Tetraethyl orthosilicate (TEOS) 
Hydrothermal strategy 
Nitroaromatic compounds 
Fluorometric determination 
Notes
Acknowledgements
This project was supported by the National Natural Science Foundation of China (No. 21505011), Chongqing Research Program of Basic Research and Frontier Technology (No. cstc2018jcyjAX0742), Key Lab of Process Analysis and Control of Sichuan Universities (No. 2017003) and Program for Top-Notch Young Innovative Talents of Chongqing Normal University (No. 02030307-00042).
Compliance with ethical standards
The author(s) declare that they have no competing interests.
Copyright information
© Springer-Verlag GmbH Austria, part of Springer Nature 2018