A capillary column packed with a zirconium(IV)-based organic framework for enrichment of endogenous phosphopeptides
Abstract
A zirconium(IV)-based metal organic framework (Zr-MOF) was deposited on polydopamine-coated silica microspheres to form microspheres of type SiO2@PDA@Zr-MOF. These were packed into capillary columns for enrichment of phosphopeptides. The column was off-line coupled to both matrix-assisted laser desorption/ionization time of flight mass spectrometry and LC-ESI-MS/MS. The method has a detection limit as low as 4 fmol of β-casein digest and a selectivity as high as 1:1000 (molar ratio of β-casein and BSA digest). It was applied to the analysis of human saliva. In total, 240 endogenous phosphopeptides were identified in only 25 μL human saliva.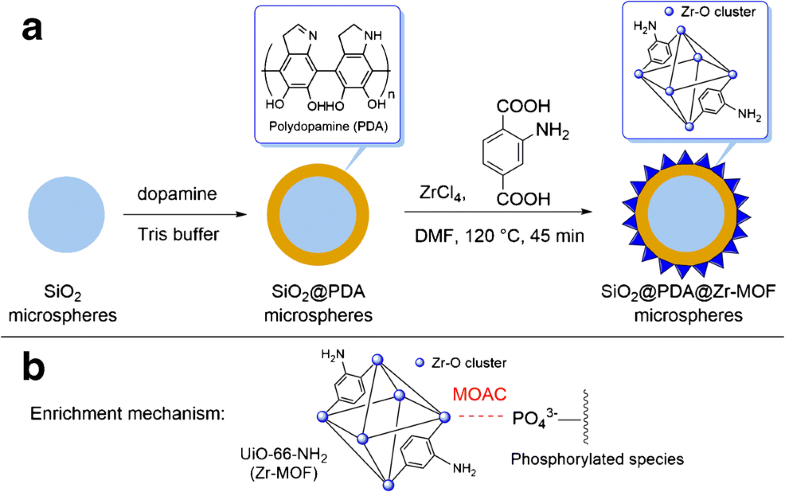 Keywords
MOF 
Human saliva 
Mass spectrometry 
Metal oxide affinity chromatography 
Phosphopeptide 
On-column enrichment 
MALDI-TOF MS 
Phosphoproteome 
Polydopamine 
Size exclusion effect 
Notes
Acknowledgements
This work was financially supported by National Key R&D Program of China (2018YFA0507501) and the National Natural Science Foundation of China (21425518).
Compliance with ethical standards
The author(s) declare that they have no competing interests.
Copyright information
© Springer-Verlag GmbH Austria, ein Teil von Springer Nature 2018